E-Newsletter - August 2016
Progress Report
Member Services Enhancement Task Force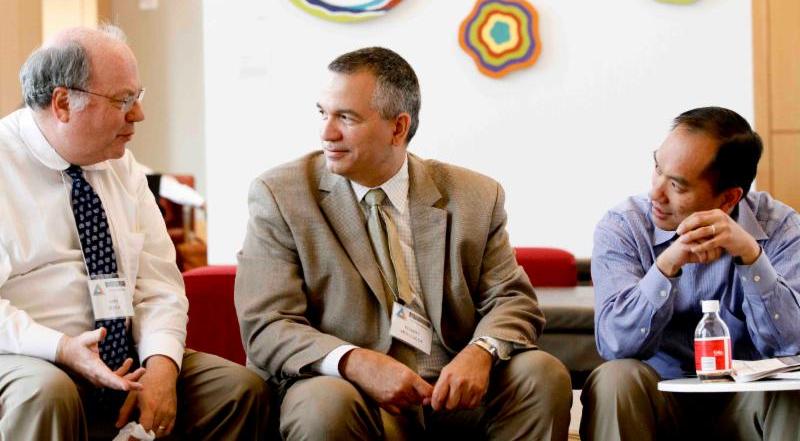 What's new with the Alliance Member Services Enhancement Task Force? Last year, the Alliance convened the Member Services Enhancement Task Force to help improve the overall facilitation and execution of Alliance work. The task force was charged with determining the needs of Alliance institutional members, enhancing Alliance member services accordingly, and improving Alliance operations. It was also charged with assisting institutional research staff in the day-to-day conduct of Alliance studies.

Since then, the task force has conducted two surveys and four forums to learn directly from Alliance members about the challenges they have in conducting NCTN/NCORP clinical trials. More than 1,400 Alliance members responded to the surveys and participated in the forums - collectively. In the first survey, members indicated that patient recruitment, time management, protocol management and investigator engagement were among the top four most challenging areas they face in conducting these trials. Building on that feedback, the second survey delved further to clearly define and understand those and other challenges, soliciting more detailed information based on each member's area of responsibility related to trial conduct. That survey was divided into 10 segments, including data management, investigational product management, membership/roster, protocol, recruitment, registration, regulatory, reimbursement, specimen management and trial selection. From these segments, nearly 30 areas of improvement were identified for service and process enhancements. In all four forums, Alliance members freely engaged in open, face-to-face dialogue and shared best practices on numerous institutional-Alliance processes to help form a knowledge bank from which to address and resolve some of

What's next? The task force has now moved from the information gathering and analysis phase, which included the surveys and forums, into the development of improvements. At the recent Alliance Spring Group Meeting held in Chicago, the task force recommended convening an Alliance Program Operations retreat to discuss the top areas of concern and develop operational strategies. It also identified and prioritized working groups that will be convened to develop overall process improvements, including recommendations for operational changes, training for staff at sites, and the creation of other helpful tools. Working groups will be convened in two phases to focus on specific areas.
Phase I working groups:
training site personnel (training modules)
protocol clarity
physician engagement (to include PI orientation)
specimen submission
patient preference (trial attractiveness)
Phase II working groups:
trial complexity (eligibility and credentialing)
institutional challenges (including VA sites)
forms (consistency with protocol)
Working group convened in July, and are meeting weekly to facilitate completion of their work as quickly as possible. The task force welcomes participation from all Alliance members. If you are interested in participating in a working group, please contact Marcia Kelly, Alliance Membership Manager, by e-mail at MemberEnhancement@AllianceNCTN.org.

Stay tuned for more updates on the retreat and working groups later this year.

Task force members
Scott H. Okuno, MD - Investigator, Mayo Clinic
Jon M. Greif, DO - Principal Investigator, Bay Area Tumor Institute NCORP
Gary W. Unzeitig, MD - Principal Investigator, Doctor's Hospital of Laredo
Daniel M. Anderson, MD - Principal Investigator, Metro MN, NCORP
Scott T. Tagawa, MD - Principal Investigator, Weill Cornell Medical College
Linda M. Sutton, MD - Investigator, Duke University
John Lister, MD - Principal Investigator, Western Pennsylvania Cancer Institute
Jennifer L. Dill, CCRP - Lead Clinical Research Professional, Washington University
Emily Houlihan - Lead Clinical Research Professional, University of California at San Francisco
Louise Brady, RN - Oncology Nurse, Christiana NCORP
Rebecca Kramer, RN - Oncology Nurse, Geisinger NCORP
Laurie Lewis, RN - Oncology Nurse, Eastern Main Medical Center
Susan Pekoe, RN - Oncology Nurse, Sentara Hospitals
Lisa Kottschade - Oncology Nurse, Mayo Clinic
Pam Moffitt - Patient Advocate

Staff advisors
Denise Brennan - Office of the Group Chair/Administration
Michael Kelly, MA - Central Protocol Operations Program
Jackie Lafky, MS - Cancer Control Program
Shauna Hillman, MS - Statistics and Data Center/Statistics/Rave
Barbara Barrett, MS, CCRP - Office of the Group Chair/Audit Program
Yujia Wen, MD, PhD - Translational Research Program

Staff administrators
Trini Ajazi, MM - Chief Administrative Officer
Marcia Kelly - Membership Manager
Stacy Reeves, MBA, MPH - Senior Project Manager
Carla Amato-Martz, LCSW - Senior Project Manager
Theresa Barrett - Office Manager

For other articles in the August issue of the Alliance E-News newsletter, see below.