E-Newsletter - July 2019
Message from the Group Chair

Alliance research:
Quick update on what's next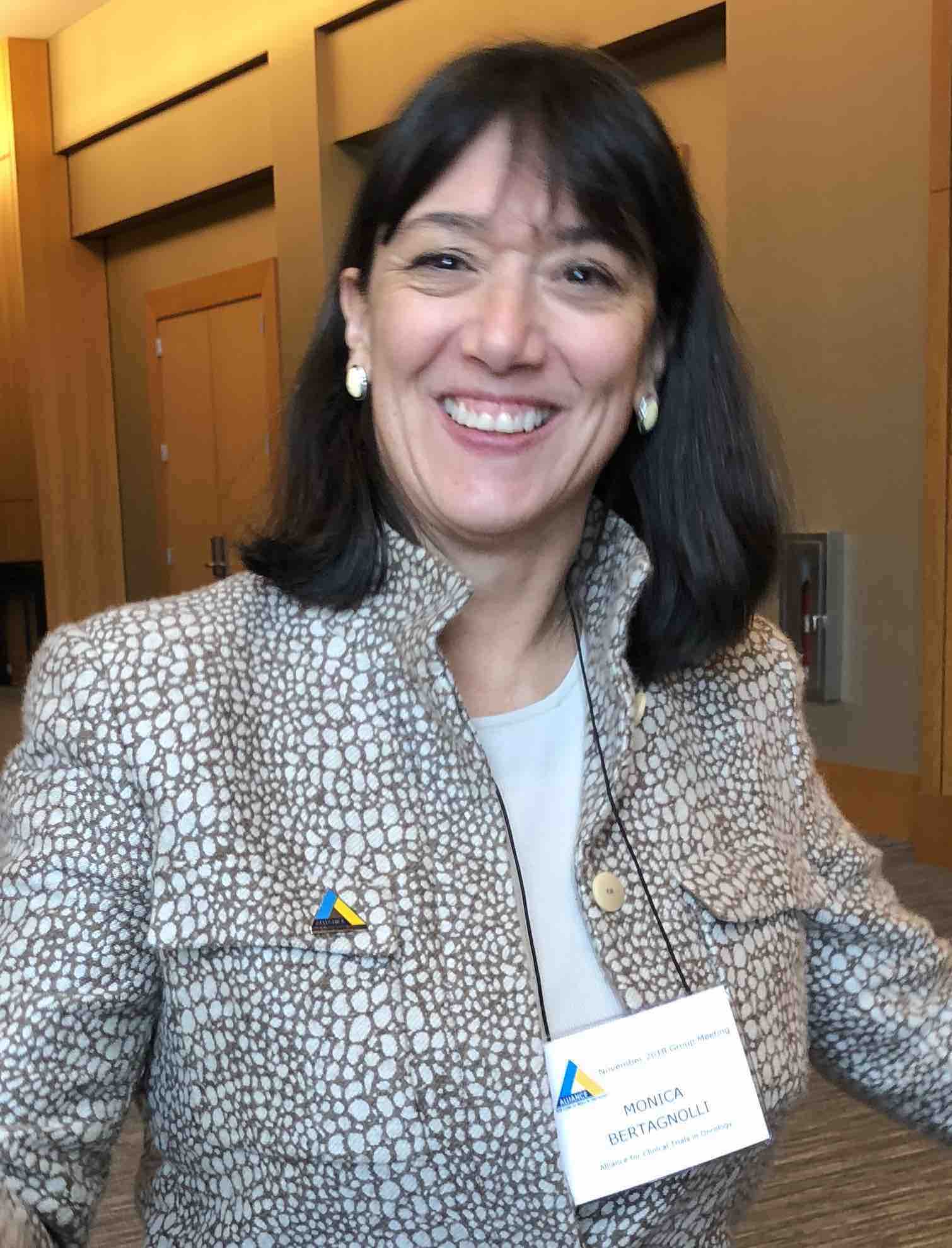 The goal of Alliance research is to bring forward new data that leads to improvements in patient care. This demands that we reach beyond late phase prospective randomized trials, because there are many important research questions that cannot be addressed by this approach. Over the years, as the field of oncology has matured, Alliance added a number of new data sources and research approaches. Alliance research now includes not only late stage prospective randomized clinical trials, but a range of other essential study approaches, including biomarker-driven early therapeutic trials, comparative effectiveness research, cancer care delivery research, and large pooled analyses of international datasets.
At the past spring Group meeting, attendees saw outstanding examples of this research on display. Recently, Alliance also entered the arena of "real world" data. A working group convened to advise the Alliance on this issue, known as the Integrating Clinical Trials And Real World Endpoints data (ICAREdata) initiative, has now graduated to become the Alliance ICAREdata Committee. This new committee will soon begin its first NCI pilot to study in collaboration with the Alliance Neuro-Oncology Committee.
What's next? During the fall 2018 Alliance Scientific Retreat, the leadership team was charged with developing a strategy to conduct research studying the value of cancer care. The escalating cost of care and the uneven access to care across our population is of great concern to all clinicians. Unfortunately, the incredible complexity of the U.S. health care payment environment make this a very challenging area to address. In response to this important need, Alliance has convened a Value of Care Working Group. Alliance research currently produces a wealth of data addressing the risks and benefits of different treatment approaches, across a wide range of cancer types. The goal of the working group is to identify ways that Alliance can bring an understanding of the resources required for various treatment options into the equation, so that our society can make better informed care delivery decisions. The new working group includes members from the Alliance Health Outcomes Research and Cancer Care Delivery Research teams, as well as experts in health care economics.
Stay tuned for more details to come on these and other Alliance initiatives.

For other articles in this issue of the Alliance E-News newsletter, see below.
Message From the Group Chair - Monica M. Bertagnolli, MD
PI Perspective: Alliance Health Outcomes Committee
Michelle Naughton, PhD and Amylou Dueck, PhD (Co-Chairs)
Jackie Lafky, MS (Program Manager)
Changing the Guard: Director and PI, Alliance Central Protocol Operations Program
Gin F. Fleming, MD and Olwen Hahn, MD
Spotlight on Alliance Trials
Alliance A091802 - Cutaneous squamous cell carcinoma
Alliance A041701 -

Chronic myeloid leukemia


Alliance A031704 - Advanced renal cell cancer
Alliance A031702 - Rare genitourinary tumors
Adding Value to the Alliance Clinical Trial Process
Alliance Patient Advocate Committee
Announcements
-- Alliance Joins with ASCO, CancerLinQ and The MITRE Corporation to Publish Initial Set of Common Cancer Data Standards and Specifications Comprising mCODE (VIDEO))
-- Recap: Alliance and Alliance Foundation Trials at 2019 ASCO
-- Renewed NCI Investigational Agent Accountability Record Forms (DARFs)
-- Call for Nominations + Applications: 2019/2020 Alliance Awards + Honors
-- Alliance Appoints New Committee Chairs
Alliance in the News
-- GNS Healthcare Chosen to Present Discovery of New Clinical Predictors of Overall Survival in Metastatic Colorectal Cancer at ESMO 2019 in Collaboration with the Alliance for Clinical Trials in Oncology
-- mCODE Improves EHR Data Standardization for Cancer Research
-- First Patient Dosed in Phase III Study of E-Selectin Antagonist Uproleselan in AML (Alliance A041701)--ASCO 2019: CALGB 90601 (Alliance): Randomized, Double-blind, Placebo-controlled Phase III Trial Comparing Gemcitabine and Cisplatin with Bevacizumab or Placebo in Patients with Metastatic Urothelial Carcinoma
--'Magic Mouthwash' Little Help for Radiation-Induced Mucositis (Alliance A221304)
-- Magic mouthwash effective treatment for mouth sore pain caused by radiation therapy (Alliance A221304)
-- Mouthwashes Show Promise in Reducing Chemo-Related Oral Mucositis Pain (Alliance A221304)
-- Giving Drugs before Surgery Lowers the Risk of Prostate Cancer Returning (CALGB 90203)
-- Study: Identifying colorectal cancer subtypes could improve treatment (CALGB/SWOG 80405)
-- The Fight to Save the Bladder Turns to Genomics (Alliance A031701)