E-News Newsletter - October 2020
Alliance at 2020 EORTC-NCI-AACR Symposium
Molecular Targets and Cancer Therapeutics
Alliance Researchers Identify Genetic Variant Linked to Drug-induced Hypertension from Bevacizumab
Largest genomic analysis results offer pathway to preventive patient screening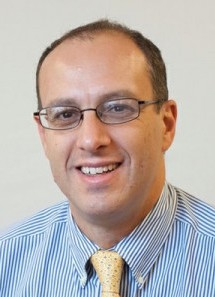 Results from the largest study of its kind led researchers from the Alliance for Clinical Trials in Oncology to identify a genetic variant that can be used to predict if patients with cancer will develop hypertension from the cancer drug bevacizumab. Federico Innocenti, MD, PhD, Associate Professor at the Eshelman School of Pharmacy of the University of North Carolina at Chapel Hill, presented findings from this unique study at the 32th EORTC-NCI-AACR Symposium on Molecular Targets and Cancer Therapeutics on Sunday, October 25.
The study is unique because researchers found and analyzed hundreds of thousands of genetic variations in all the genes of more than 1,000 patients with advanced breast, prostate, or breast cancer taking part in five clinical trials in the United States. This genome-wide association study (GWAS) is the largest such study in patients being treated with bevacizumab.
Bevacizumab is a monoclonal antibody that targets a protein called vascular endothelial growth factor (VEGF) that helps cancer cells grow new blood supplies. By targeting VEGF, the drug reduces the supply of oxygen and nutrients so that the tumor shrinks or stops growing. It is used to treat a number of different cancers, often in combination with other drugs.
"VEGF inhibitors like bevacizumab have revolutionized cancer treatment, but because they work by impacting how the body builds and regulates blood vessels, side effects are usually vascular-related, said Dr. Innocenti, who led the research. "Patients treated with bevacizumab can experience an increase in blood pressure and kidney problems caused by proteins leaking into urine. These toxicities are common, and have been observed in up to 40% of patients treated with bevacizumab. They can cause discomfort and harm to patients; they can develop quickly and become severe, even fatal; and they can lead to delaying or discontinuing treatment, which limits its efficacy."
Currently, there is no way to predict who is likely to experience these serious and potentially fatal adverse events, which can develop quickly and often require stopping or modifying treatment.
After analyzing thousands of genomic variations – from more than 1,000 Caucasian cancer patients across five independent clinical trials – the Alliance researchers identified a genomic variant that appears twice as often in patients with hypertension than without it, and is present in over a quarter of hypertension cases. These results suggest the return on testing for this variant is very high. When assessing how many people need to be tested to avoid one severe event, the number is only 34 for Caucasian patients. If confirmed in African American patients, the number drops significantly to just 9, given the much higher occurrence of the variant (up to 80%) in this population. The other genomic variant identified in this study for proteinuria, the condition of protein leaking into the urine and causing kidney problems), requires further validation.
"This study is a good example of how our increasing ability to study the human genome easily and in depth is producing findings that may have an impact, either immediately or fairly soon, on patient health and outcomes," said William R. Sellers, MD, Professor of Medicine at Dana-Farber Cancer Institute, who is also co-chair of the Conference and not involved with the research. "Side effects from bevacizumab can be debilitating; a simple genetic test to identify which patients will experience toxicities could help provide better and more effective treatments for our patients."
Dr. Innocenti added, "Early identification is a potential double win. It will first help doctors identify patients at a higher risk of hypertension induced by bevacizumab. Then, for example, these patients can receive closer monitoring or prophylactic treatment, allowing them to continue their cancer treatment uninterrupted."
Efforts are currently underway to start a prospective observational study that will provide doctors with a free test to screen patients and update their treatment regimens as necessary. "Interested clinicians and scientists should contact me," says Dr. Innocenti.
This study was supported by funding from the National Cancer Institute (NCI) through its National Clinical Trials Network. The study included Alliance trials: CALGB 40502, CALGB 40503, CALGB 80303, and CALGB 90401, and ECOG-ACRIN Cancer Research Group's ECOG-ACRIN-5103.
For other articles in this issue of Alliance E-News, see below.