E-Newsletter - October 2020
Spotlight on Alliance Trials

Alliance Trial Focus on Altering Chemotherapy May Improve Outcomes in Pancreatic Cancer
Alliance A021806: A phase III trial of perioperative versus adjuvant chemotherapy for resectable pancreatic cancer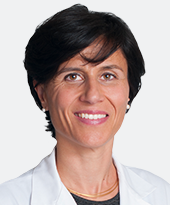 Cristina R. Ferrone, MD, of Massachusetts General Hospital, is leading Alliance A021806, a phase III trial that compares perioperative chemotherapy versus adjuvant chemotherapy for the treatment of pancreatic cancer that can be removed by surgery. Giving chemotherapy before and after surgery may work better in treating patients with pancreatic cancer compared to giving chemotherapy after surgery.
Pancreatic cancer is the fourth most common cause of cancer death in the U.S. with a quarter of patients alive after a year and only seven percent achieving survival greater than five years [1]. Standard of care for patients with resectable pancreatic cancer is an operation followed by adjuvant chemotherapy which has been shown to improve survival [2]. Unfortunately, nearly half of patients fail to complete chemotherapy after pancreatectomy [3]. This has led to an increased interest in the use of neoadjuvant therapy.
This trial's primary objective is to evaluate and compare overall survival in patients with resectable pancreatic cancer treated with perioperative chemotherapy (mFOLFIRINOX) and surgery versus up-front surgery followed by adjuvant chemotherapy (mFOLFIRINOX).
Patients will be randomly assigned to one of two groups. Those in Group 1 will receive eight cycles of mFOLFIRINOX (leucovorin, 5-fluorouracil, irinotecan, and oxaliplatin) intravenously prior to surgery. Each cycle will last 14 days. Patients considered appropriate for surgery will proceed to surgery and then will receive four more cycles of mFOLFIRINOX. Those considered inappropriate for surgery will be removed from protocol therapy and followed for six years. Those in Group 2 will undergo surgery first and then will receive 12 cycles of mFOLFIRINOX intravenously. Each cycle will last 14 days. In addition, before treatment begins in both groups, patients will be asked to complete two quality of life assessments. During treatment, patients will also be asked to complete a quality of life assessment prior to each treatment cycle and at the end of study treatment.
For complete information on the trial design, treatment plan, and patient eligibility, refer to the study protocol, which can be found on the Alliance website or the CTSU website.
Study Chair: Cristina R. Ferrone, MD, Massachusetts General Hospital | E-mail: cferrone@mgh.harvard.edu
Activated: 7/01/2020 | Status: Now recruiting participants
CT.gov Link: http://bit.ly/Alliance-A021806
Siegel, R.L., K.D. Miller, and A. Jemal, Cancer statistics, 2018.CA Cancer J Clin, 2018. 68(1): p. 7-30.

Conroy, T., et al., Unicancer GI PRODIGE

24/CCTG PA.6 trial: A multicenter international randomized phase III trial of adjuvant mFOLFIRINOX versus gemcitabine (gem) in patients with resected pancreatic ductal adenocarcinomas. Journal of Clinical Oncology, 2018. 36(18).

Hsu, C.C., et al., Adjuvant Chemoradiation for Pancreatic Adenocarcinoma: The Johns Hopkins Hospital-Mayo Clinic Collaborative Study. Annals of Surgical Oncology, 2010. 17(4): p. 981-990.
For other articles in this issue of Alliance E-News, see below.