E-news Newsletter - October 2020
Spotlight on Alliance Trials
Alliance Establishes National Biorepository to Study Immunotherapy Side Effects
Alliance A151804: Establishment of a national biorepository to advance studies of immune-related adverse events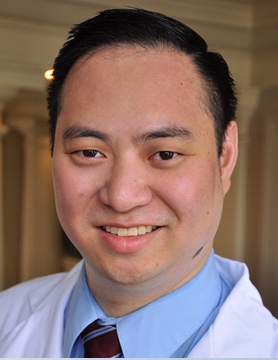 David Kozono, MD, PhD, of the Dana-Farber Cancer Institute/Brigham and Women's Hospital, is leading Alliance A151804 to establish a national biorepository by collecting research data and samples from patients who experience immunotherapy side effects to store for use in future research studies. This effort may help researchers better understand how to predict, prevent, and treat these side effects.
Immune-related adverse events (irAEs) are rare but serious results of treatment with immuno-oncology (IO) therapy. This therapy, including monoclonal antibodies that target programmed cell death protein 1 (PD-1), programmed death-ligand 1 (PD-L1) and cytotoxic T-lymphocyte-associated protein 4 (CTLA-4), has had transformative effects on outcomes for patients with advanced cancers. Inhibitors against additional promising targets are under active investigation. Although most patients tolerate these therapies well, a few patients experience irAEs that range in severity up to life-threatening or fatal. These irAEs involve diverse organs and systems, including the heart, kidney, liver, and lung, gastrointestinal, musculoskeletal, and central and peripheral nervous systems. Because of the relatively low incidence and a wide variety of irAEs, the establishment of an efficient centralized repository to obtain and organize the distribution of well-annotated biospecimens is vital for translational studies that improve scientific understanding of the molecular pathogenesis and treatment of these significant toxicities.
This trial's primary objective is to collect biospecimen and clinical data collections from patients treated with IO therapeutics who experience one or more serious (Grade 3–5) irAEs. The irAEs of interest include myocarditis, colitis, hepatitis, nephritis, myositis, pneumonitis, meningitis/encephalitis, dermatitis, endocrinopathies, neuropathy, rare infections, and hyperprogression.
Patients will be registered for the trial at the time of presentation with one or more severe irAEs after having received an IO therapeutic. Eligible patients will include those who have received one or more IO therapeutics and have experienced one or more serious adverse events, including those that are likely immune-related, a diagnosis of a rare infection, or hyperprogression.
For complete information on the study plan and patient eligibility, refer to the study protocol, which can be found on the Alliance website or the CTSU website.
Study Chair: David Kozono, MD, PhD, Dana-Farber/Brigham and Women's Hospital | E-mail: dkozono@bwh.harvard.edu
Activated: 1/31/2020 | Status: Now recruiting participants
CT.gov Link: http:/bit.ly/AllianceA151804
For other articles in this issue of Alliance E-News, see below.