E-Newsletter - October 2017
ALLIANCE STATISTICS AND DATA CENTER ANNOUNCE RECIPIENT OF INAUGURAL DANIEL J. SARGENT, PHD, MEMORIAL FELLOWSHIP IN INNOVATIVE CLINICAL TRIAL DESIGN AND METHODS
The Alliance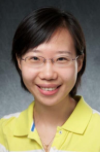 Statistics and Data Center is pleased to announce Vivien (Jun) Yin, PhD, as the first recipient of the Daniel J. Sargent, PhD, Memorial Fellowship in Innovative Clinical Trial Design and Methods. Dr. Yin is an Assistant Professor of Biostatistics,an Associate Consultant at Mayo Clinic, and Faculty Statistician for the Alliance Leukemia Committee. She also serves as lead statistician for the Mayo Clinic Experimental Therapeutics Clinical Trials Network (ETCTN), Mayo Clinic Endocrine Disease Oriented Group and ARCAD France Foundation (for advanced colorectal cancers). Dr. Yin has designed and conducted more than 20 phase I-III trials in solid tumors and hematological malignancies. Her project is titled: "Individualized Patient Dosing in Phase I Clinical Trials Incorporating Patient-Reported Outcomes."

The fellowship award is for a non-renewable, one-year term, and is designed exclusively for Biostatistics faculty affiliated with the Alliance Statistics and Data Center (SDC), preferably junior faculty, within seven years post training (Associate Professor Rank or below). Proposals must be closely tied to the research agenda of the Alliance and Alliance SDC, and the work proposed should address study design and/or data analyses approaches that are directly relevant to current challenges faced with cancer clinical trials. Proposals should also address achieving innovation in one or more of the following areas: cancer clinical trial design, prognostic and predictive biomarkers, endpoints, trial monitoring, and execution. The work should directly lead to a peer-reviewed publication, presentation or preliminary data for a grant proposal.

All proposals are reviewed (in a blinded manner) and scored by an independent review committee comprising of at least two independent biostatisticians and one or more clinical investigators convened by the Alliance SDC leadership.

The fellowship award honors the contributions of Dr. Sargent to the field of clinical cancer research.

The canc

er clinical research community suffered a tremendous loss last year with Dr. Sargent's passing due to a sudden unexpected illness. He was the Ralph S. and Beverley E. Caulkins Professor of Cancer Research, and the Chair of the Division of Biomedical Statistics and Informatics in the Department of Health Sciences Research at the Mayo Clinic. He was a world expert in the area of oncology clinical trials and led multiple international data pooling and analysis consortia, including ACCENT in adjuvant colon cancer, the prospective IDEA international pooled analysis testing the duration of therapy in stage III colon cancer, and the FLASH international consortia in Follicular Lymphoma. Dr. Sargent published extensively in colorectal cancer treatment, optimal clinical trial design and endpoints, and prognostic and predictive biomarkers.

The Alliance for Clinical Trials in Oncology would not have been created if it were not for his efforts and particular talents. In 2010, Dr. Sargent was elected to serve as Group Statistician for Cancer and Leukemia Group B (CALGB), providing an important bridge between CALGB and the North Central Cancer Treatment Group (NCCTG). This appointment was the catalyst that led to the 2011 merger of CALGB, NCCTG, and the American College of Surgeons Clinical Oncology Group (ACOSOG) to create the Alliance.

To learn more about the Daniel J. Sargent, PhD, Memorial Fellowship in Innovative Clinical Trial Design and Methods, visit the Alliance Awards webpage.
For other articles in the October issue of the Alliance E-News newsletter, see below.