E-Newsletter - October 2017
focus on: alliance/american college of surgeons clinical research program (ACS CRP)
The mission of the Alliance/American College of Surgeons Clinical Research Program (ACS CRP) is to reduce the impact of cancer by: 1) increasing knowledge and awareness of new evidence and practice standards; 2) increasing the participation of community oncology surgeons in cancer research and cancer care activities; 3) developing and implementing evidence-based practices in surgical oncology; and 4) creating opportunities for meaningful health services research. The program comprises four committees that have unique goals and activities and that work together to reach the program's overall research goals. They include the Education Committee, Dissemination & Implementation Committee, Cancer Care Standards Development Committee, and Cancer Care Delivery Research Committee. Kelly K. Hunt, MD, FACS (Chair and Professor, Department of Breast Surgical Oncology - Division of Surgery, University of Texas MD Anderson Cancer Center) is Principal Investigator and Director of the Alliance/ACS CRP.
The Alliance/ACS CRP benefits from a close relationship with the American College of Surgeons (ACS) and the Commission on Cancer (CoC) - organizations that can help validate and disseminate research from the Alliance. Together these groups share responsibility for developing surgical standards for use in Alliance clinical trial protocols and CoC accreditation as well as for disseminating new evidence-based knowledge.
The Alliance/ACS CRP offer many opportunities for surgeons involved in the care of cancer patients to get involved in the research and development of evidence-based practices in surgical oncology. At the upcoming Alliance Fall Group Meeting in Chicago, the Alliance/ACS CRP will host a networking session 7:30 pm-8:30 pm CT on Thursday, November 2. Surgical oncologists interested in learning more about or becoming involved in the Alliance/ACS CRP are welcome to attend. To RSVP for this event, send an e-mail to Amanda Francescatti (Senior Manager, ACS CRP) at afrancescatti@facs.org.
EDUCATION
The goals of the Alliance/ACS CRP Education Committee are to increase knowledge and awareness of new oncologic surgical evidence and practice standards and reduce the time from trials reporting to practice implementation. Judy Boughey, MD, FACS (Professor of Surgery and Vice-Chair of Research, Department of Surgery, Mayo Clinic) is the committee's chair,, and Y. Nancy You, MD, FACS (Associate Professor of Colorectal Surgery, Department of Surgical Oncology, and Medical Director, Familial High-risk Gastrointestinal Cancer Clinic, University of Texas MD Anderson Cancer Center) is the committee's vice-chair.
The Education Committe


e achieves its goals through a variety of initiatives. First, it hosts a monthly article in the ACS Bulletin that focuses on new and current oncology trials. For example, PACES/S0820, ALCHEMIST, and COMET trials were featured this year. Second, the committee holds investigators meetings at society meetings such as the American Society of Breast Surgeons and the Society of Surgical Oncology (SSO), during which new and accruing surgical trials are presented. Principal investigators are available to answer questions from current or prospective investigators. This winter, the Alliance/ACS CRP will host investigators meetings in a webinar format. Stay tuned for more details.
The committee also hosts a lecturer every year at the Alliance Fall Group Meeting. The 2017 Alliance/ACS CRP Lecturer is Lawrence Shulman, MD, who will speak during the plenary session on "The Future of Clinical Trials: How the Commission on Cancer and Co-operative Groups Can Work Together."
Recently, the committee collaborated with the SSO Research Committee to develop a two-hour course: Clinical Trials for Surgeons: Hurdles and Opportunities, for the SSO annual meeting in March 2018. It will provide an overview of the NCI NCTN groups, instruction in navigating local and national infrastructure of clinical trials research, and opportunities to become a trialist.
To increase awareness of new evidence and to help surgeons stay ahead of the curve on the treatment of patients with cancer, the Alliance/ACS CRP Education Committee sponsors panel sessions annually at the ACS Clinical Congress. At this year's ACS Clinical Congress in San Diego, (October 22-26), the committee sponsored five panel sessions covering a wide array of topics in oncology with a focus to increase surgeon knowledge and elevate the care of oncology patients nationally. Topics included: Management of the Axilla in Breast Cancer, Evolving Concepts in the AJCC Staging Systems: Breast Cancer, Colorectal and Melanoma, ACS Operative Standards for Cancer Surgery, Controversies and the Appropriate Incorporation of Emerging Technologies in Multidisciplinary Treatment of Liver and Pancreatic Cancer, and Clinical Trial Results: Why and How You Should Incorporate Them into Your Practice?
DISSEMINATION AND IMPLEMENTATION

The goals of the Alliance/ACS CRP Dissemination & Implementation (D&I) Committee are to develop strategies for disseminating key cancer clinical trial results and to design implementation research programs for cancer guidelines; collaborate with the CoC, the ACS and the Alliance to disseminate and implement standards based on new information from clinical trials; and to investigate novel ways to hasten and broaden uptake in clinical practice of changes indicated by results of clinical trials.
Sarah Blair, MD, FACS (Professor of Surgery, UC San Diego Health) is the committee's chair, and Diana Dickson-Witmer, MD, FACS (Medical Director, Christiana Care Breast Center and Breast Program and Helen F. Graham Cancer Center and Research Institute) is the committee's vice-chair.
Over the past year, the Alliance/ACS CRP D&I Committee has focused on surveying the community to determine how physicians enroll patients to clinical trials, to understand the facets of implementation of standards, and to learn about preferences for dissemination. The committee has spent a great deal of time in developing a concept entitled "Tumor Board Education Series: Devising a Package for Dissemination and Implementation of Alliance Trial Data with Stakeholder Input" (PI: Abigail Caudle, MD, FACS). This concept has been shared with the Alliance Community Oncology Committee in an effort to increase awareness and garner feedback from community oncologists. The committee focuses its efforts on dissemination of findings from the Operative Standards for Cancer Surgery manuals, including submission of proposed quality measures for implementation in the National Cancer Database and potential integration of operative standards into ACS accreditation program standards manuals
CANCER CARE STANDARDS DEVELOPMENT
The Alliance/ACS CRP Ca


ncer Care Standards Development (CCSD) Committee was put in place to develop surgical standards and quality metrics. The committee is chaired by Matthew H.G. Katz, MD, FACS, (Associate Professor, Department of Surgical Oncology, University of Texas MD Anderson Cancer Center) and Nirmal Veeramachaneni, MD, FACS (Thoracic Surgeon and Medical Director of Thoracic Surgery, University of Kansas Hospital) is vice-chair.
Committee leadership brought together more than 400 surgical oncologists to address the technical aspects of standardizing surgical care based on the highest evidence available. Operative Standards for Cancer Surgery Volumes I and II are the culmination of this committee's work.
Operative Standards for Cancer Surgery (OSCS) Volume I, which included operations of the breast, colon, lung, and pancreas, was published in 2015. First envisioned by Heidi Nelson, MD, FACS, Past-Alliance/ACS CRP Principal Investigator and Director, OSCS Volume I was developed in response to the need for a standardized description of "minimum standards" for various cancer operations and to serve as a reference for clinical trials that include surgical interventions. More specifically, the CRP sought to create a standards manual that could serve as a reference in the development of clinical trials that include operations such as breast-conserving procedures, pancreaticoduodenectomy, and lobectomy, rather than require investigators to establish or re-establish the basic principles of these operations with the development of each new trial. The goal was to minimize variability across study sites and improve adherence to minimum standards for patients treated both on and off a clinical trial. As the project matured, it became clear that this manual could serve multiple purposes, ranging from surgical education to providing a basis for operative report templates and quality improvement databases.
The manual provides concrete recommendations on the effective conduct of operations and detailed information on the oncologic principles, avoidable pitfalls, and quality of the evidence on which these recommendations are based. The manual focuses on the decisions that surgeons make from incision to closure, and the recommendations in it are based on the strongest available evidence.
Because randomized trials have yet to address all of the components of operations within each disease site, it was important to draw on the experience and consensus of the experts writing the individual chapters. Identifying the lack of evidence on certain topics has been an unintended result of developing this manual and has galvanized the resolve of the authors to establish standards where none currently exist.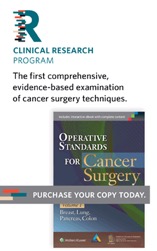 More than 1,150 copies of OSCS Volume I have been sold to date. Operative Standards for Cancer Surgery Volume II, focused on standards for melanoma and esophageal, gastric, thyroid, and rectal cancers, is due for publication in mid-2018. OSCS Volume I can be purchased through the Wolters Kluwer website.
Planning is underway for Operative Standards for Cancer Surgery Volume III, which will include operations for sarcoma and adrenal, bladder, kidney, hepatobiliary, neuroendocrine and peritoneal malignancies.
The OSCS teams have also published "Controversies in Surgical Oncology," a series of articles in the Annals of Surgical Oncology that draw on content from OSCS Volume I. A second "Controversies in Surgical Oncology" series, focused on disease sites covered in OSCS Volume II, is in development.
As the representative surgeon body of the Alliance, an additional responsibility of the Alliance/ACS CRP is to review surgical elements of Alliance clinical trials for feasibility. Processes have been put in place at the Alliance Central Protocol Office for this committee to review surgical elements of new Alliance clinical trials within the protocol submission mechanism.
CANCER CARE DELIVERY RESEARCH
Cancer Care Delivery Research (CCDR) has emerged as a new field and "focuses on how organizational structures and processes, care delivery models, financing and reimbursement, health technologies, and health care provider and patient knowledge, attitudes, and behaviors influence cancer care quality, cost, and access and ultimately the health outcomes and well-being of patients and survivors" (Kent 2015). The National Cancer Institute's Community Oncology Research Program (NCORP) includes CCDR as one key area of focus for community-based cancer research. The mission of the Alliance/ACS CRP Cancer Care Delivery Research Committee is to improve cancer care outcomes through high-quality health services research that leverages the multidisciplinary collaboration and research infrastructure of the Alliance, NCORP and other partners to generate new knowledge and facilitate the implementation and dissemination of this new knowledge throughout the oncology community. The CCDR Committee focuses on health services and health care delivery research. Current committee priorities include patient/caregiver communication, clinical care coordination, cost and value of care, health care systems, quality of care, and precision medicine.


George J Chang, MD, MS, FACS (Chief of Colon and Rectal Surgery; Professor, Department of Surgical Oncology and Department of Health Services Research; and Director of Clinical Operations in the Minimally Invasive and New Technologies in Oncologic Surgery Program, University of Texas MD Anderson Cancer Center) and Ethan Basch, MD, MSc (Professor, Department of Medicine - Division of Hematology and Oncology, and Director, Cancer Outcomes Research Program, UNC Lineberger Comprehensive Cancer Center) are the committee's co-chairs. Stephen Edge, MD, FACS (Professor of Oncology, Departments of Surgical Oncology and Cancer Prevention and Control and Vice President of Healthcare Outcomes and Policy, Roswell Park Cancer Institute; Professor of Surgery, University at Buffalo) and Heather Neuman, MD, FACS (Associate Professor, Division of Surgical Oncology and Division of General Surgery, University of Wisconsin-Madison) serve as the committee's vice-chairs.

The Allian

ce/ACS CRP Cancer Care Delivery Research Committee has achieved a number of significant accomplishments since its inception. The first Alliance NCORP CCDR protocol was activated in July 2017 (Alliance A191402CD: Testing Decision Aids to Improve Prostate Cancer Decisions for Minority Men (PI: Jon Tilburt, MD)). Two concepts were submitted to the NCI CCDR Steering Committee in late 2016; protocol development is underway for both (Alliance A231601CD: Improving Surgical Care and Outcomes in Older Cancer Patients Through Implementation of an Efficient Pre-Surgical Toolkit (OPTI-Surg) (PIs: Emily Finlayson, MD, MS and George J. Chang, MD, MS); and Alliance A231602CD (Access to and Value of Treatment Innovation in Blood Cancers (Rena Conti)). Preparatory work is ongoing for these protocols, and study teams are collaborating with NCORP Community Sites to determine feasibility and interest. Additionally, study teams are working with other Alliance committees on these protocols (Alliance Cancer in the Elderly; Lymphoma/Myeloma).
The committee continues to forge new relationships with other groups to encourage NCORP CCDR concept development, including the American Society of Clinical Oncology, the Comprehensive Oncologic Emergency Research Network, the National Cancer Database, and investigators at NCORP and non-NCORP sites across the country. The Alliance/ACS CRP CCDR Committee has also provided pilot research awards to fund original research through a competitive application. Funded project topics have included a study of the use of remote symptom monitoring among breast cancer survivors (Shelby Terstriep, MD), and delivering patient-centered counseling to women at risk of cancer-related infertility (Terri Lynn Woodard, MD). Additionally, two recently approved projects will include one that evaluates a web-based tool to engage advanced cancer patients in palliative care (Arif Kamal, MD) and another that examines cancer care delivery processes at community oncology practices and their association with acute hospital and emergency department utilization (Gabriel Brooks, MD).
The Alliance/ACS CRP CCDR Committee also has a strong portfolio in comparative effectiveness research, including several research funding contracts through PCORI. The committee has four PCORI-funded Alliance Foundation Trials (AFT) studies in progress (Basch, Chen, Hwang, Schrag). Two of these involve a strong collaboration with the CoC and the NCDB, both with large-scale registry studies underway (Hwang, Chen). Previous PCORI-funded projects evaluated post-treatment surveillance for breast, colorectal, and lung cancers.
Alliance/ACS CRP Leadership
Principal Investigator and Director:
Kelly K. Hunt MD, FACS (MD Anderson Cancer Center)
Education Committee
Chair: Judy C. Boughey MBBCh, FACS (Mayo Clinic in Rochester)
Vice-Chair: Y. Nancy You MD, FACS (MD Anderson Cancer Center)
Dissemination and Implementation Committee
Chair: Sarah L. Blair, MD, FACS (University of California, San Diego)
Vice-Chair: Diana Dickson-Witmer, MD, FACS (Christiana Care Health System)
Cancer Care Standards Development Committee
Chair: Matthew H.G. Katz MD, FACS (MD Anderson Cancer Center)
Vice-Chair: Nirmal K. Veeramachaneni MD, FACS (University of Kansas)
Cancer Care Delivery Research Committee
Co-Chairs: Ethan M. Basch MD, MSc (University of North Carolina, Chapel Hill)
George J. Chang MD, MS, FACS (MD Anderson Cancer Center)
Vice-Chairs: Stephen B. Edge MD, FACS (Baptist Memorial Health Care Corporation)
Heather B. Neuman, MD, MS, FACS (University of Wisconsin)
For other articles in the October issue of the Alliance E-News newsletter, see below.