E-Newsletter - Summer 2017
Alliance Patient Advocates on the Move
Ivis Febus-Sampayo, an Alliance Patient Advocate serving on the Alliance Breast and Health Disparities Committees, recently received honors from El Diario La Prensa (the oldest Hispanic newspaper in the nation, 100 years), for her dedication to helping women with breast and ovarian cancer and for using her own survivorship to advocate for others as a way of showcasing women who are giving back to the community in significant ways. Ms. Febus-Sampayo was awarded the Mujeres Destacadas 2017 Award.


Patty Spears, Co-Chair, Alliance Patient Advocate Committee, was recently featured on Voices on Cancer, an ASCO Cancer.Net blog series where advocates share their stories and the lessons they have learned about being a cancer advocate. Click here to read about how advocates help create cancer guidelines to help clinicians determine which treatments are best for certain patients.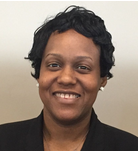 Yasmeem Watson has joined the Alliance Patient Advocate Committee and will serve on the Alliance Gastrointestinal Committee. Ms. Watson was diagnosed with stage III colon cancer in June 2013, and endured a resection to her sigmoid colon and eight months of chemotherapy. Since then she has made the resolve to dedicate her life to cancer research and awareness. Ms. Watson actively participates in the Fight Colorectal Cancer's Research Advocacy Training and Support (RATS) program, and is a member of the Review Panel for the U.S. Department of Defense and Patient-Centered Outcomes Research Institute (PCORI) and the American Association of Cancer Research (AACR).
Jack

Whelan, an Alliance Patient Advocate serving on Alliance Lymphoma and Myeloma Committees, was recently recognized by the American Association of Cancer Research with its Distinguished Public Service Award. Mr. Whelan was honored for his long-standing advocacy and commitment on behalf of cancer patients and their loved ones. Read more about the prestigious award and Mr. Whelan's dedication.
For other articles in the Summer issue of the Alliance E-News newsletter, see below.