E-Newsletter - April 2018
Next Generation Approaches:
Alliance Gastrointestinal Cancers Committee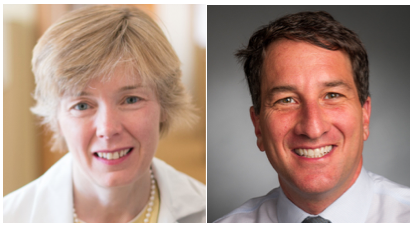 By Eileen O'Reilly, MD and Jeffrey Meyerhardt, MD
Co-Chairs, Alliance GI Committee
The Alliance Gastrointestinal (GI) Cancers Committee supports research in a diverse group of malignancies, subdivided into colorectal, esophago-gastric, hepatobiliary, pancreas and neuroendocrine cancers. The oncology world has witnessed profound changes in the fields of molecular genomics and immunotherapeutic approaches for cancer in general and the GI committee has strived to bring these next generation approaches to provide state of the art care for patients with a broad range of GI cancers. The committee has broad representation from multiple disciplines including surgery, medical oncology, radiation oncology along with translational and clinical investigators and community practitioners and is supported by a terrific administrative team from the Alliance. The committee has been significantly restructured over the last two years with multi-disciplinary co-leads for each major disease site. The committee hold monthly GI conference calls with wide-ranging participation from multiple disciplines involved in care of GI cancers as disease-specific working group calls, collectively which has resulted in the generation of several new concepts, a number which are poised to open in 2018.
Two high-profile colorectal trials led by the Alliance have recently been presented and published. CALGB 80405 was one of the largest trials in advanced colorectal cancer and demonstrated that median survival now is over 30 months for the average patient with previously untreated metastatic disease. Multiple sub-studies have demonstrated the power of creating an extensive database of tumor and blood biospecimens, quality of life data, diet and lifestyle questionnaires and health economics data. Notably, the study provided insight into 'sidedness' and the profound observation that left-sided colorectal cancers fare better than right, with a difference in outcome being greater than any previously reported therapeutic intervention. A second companion study demonstrating the association of plasma vitamin D with outcome in patients participating in CALGB 80405 has led to the initial development of a trial of vitamin D with FOLFOX and bevacizumab in previously untreated advanced colorectal cancer. The rich database with lead to extensive understanding of metastatic colorectal cancer in the years to come. Second, CALGB 80702 was a phase III trial testing three versus six months of adjuvant FOLFOX with or without celecoxib in stage III disease. The duration question (IDEA collaboration) was part of a prospective international collaboration that was a plenary presentation at ASCO in 2017 and recently published in New England Journal of Medicine (N Engl J Med 2018; 378:1177-1188), reporting a risk based and treatment choice based approach to adjuvant therapy. We are awaiting maturation of the celecoxib hypothesis.
Related to molecular stratification and immunotherapy, A021502 (ATOMIC trial) has recently opened and evaluates the addition of the PD-L1 inhibitor, atezolizumab to FOLFOX for patients with MSI-H/MMR-D non-BRAF mutated AJCC stage III colon cancer and potentially will provide a new adjuvant paradigm for a subset of resected patients. To further extend a targeted approach in the adjuvant setting the committee is currently developing a BRAF- targeted approach for BRAF-mutated non-MSI-H high risk AJCC stage III colon cancer following standard therapy.
New therapeutic paradigms are a major focus of development in rectal cancer. Specifically, N1048 (PROSPECT trial), a randomized phase II/III trial evaluating the selective use of radiation therapy in localized rectal, is nearing completion of enrollment (approximately 85 percent completed accrual) and likely will represent a practice changing and potentially toxicity-sparing strategy. Further building on the Alliance's expertise in this space, investigators are currently developing a rectal sparing approach by integrating a 'watch and wait' option for selected patients who respond well to systemic therapy and combined chemoradiotherapy. These distinct and separate approaches will provide tailored approaches for subgroups of patients with rectal cancer and leverage the multi-disciplinary participation of the committee to perform trials that can only be accomplished in the cooperative group setting.
In the hepatobiliary field, CALGB 80802, the largest and only hepatocellular trial in the United States cooperative group network has been preliminarily presented (Journal of Clinical Oncology 34, no. 4_suppl (February 2016) 192-192), and while no benefit for the addition of doxorubicin to standard sorafenib in HCC was identified, the correlative science evaluating etiology, virology and novel imaging strategies will provide important insights into this disease. Moving forward, in biliary cancer, recent NCI approval has been obtained for a phase IB/expansion cohort trial (A021701) evaluating the addition of ribociclib, a CDK 4/6 cell cycle inhibitor, to standard cisplatin/gemcitabine.
In pancreas cancer, A021501 is currently accruing very actively. This trial builds on a previous Alliance pilot trial and evaluates modified FOLFIRINOX (5-fluoruracil, oxaliplatin, irinotecan and leucovorin) with or without hypofractionated (stereotactic) short course radiation (SBRT) in borderline resectable pancreas cancer. Additional trials in development in the metastatic space are seeking to evaluate ribociclib in conjunction with two cytotoxic backbones in a second-line setting (A021702) and an innovative trial is positioned to evaluate the role of SBRT in a subset of patients who have achieved durable response to standard front-line therapy.
Neuroendocrine cancers are a rare group of malignancies, nonetheless, the incidence has been steadily rising over the last several decades. Sunitinib, a receptor tyrosine kinase inhibitor (TKI), is an established therapeutic option for pancreas neuroendocrine cancers. Building on this theme, we soon expect the maturation of an evaluation of pazopanib, another TKI compared to placebo, in advanced neuroendocrine cancers (A021202). A021602 (CABINET trial), a soon to open to accrual, randomized phase III trial is evaluating the VEGFR- multi-kinase inhibitor, cabozantinib versus placebo following prior everolimus in parallel cohorts of pancreas and other neuroendocrine cancers. This trial is scheduled to open in mid-2018 and represents an important partnership with the NCI, Alliance and industry. Finally, a working group is actively seeking to develop trials in esophagus and/or gastric cancer, a space with many multidisciplinary and therapeutic questions but limited current trial options.
To the future, the committee is working hard to integrate the next generation of leading oncologists as principal investigators for developing trials, and we are proud to report that all the current trials in development have a junior investigator in the lead role supported by a senior investigator. In addition, the committee is trying to collaboratively develop studies with the other NCTN groups by identifying Alliance 'endorsed' investigators (study champions) early in study development. These approaches benefit the entire GI cancers community.
To sum up, this is an exciting time to be involved in the development of novel treatment approaches for GI cancers and we are very fortunate to be witnessing a re-invigoration of interest and enthusiasm in this space and we look forward to further capitalizing on these opportunities in 2018 and beyond!
For other articles in this issue of the Alliance E-News newsletter, see below.