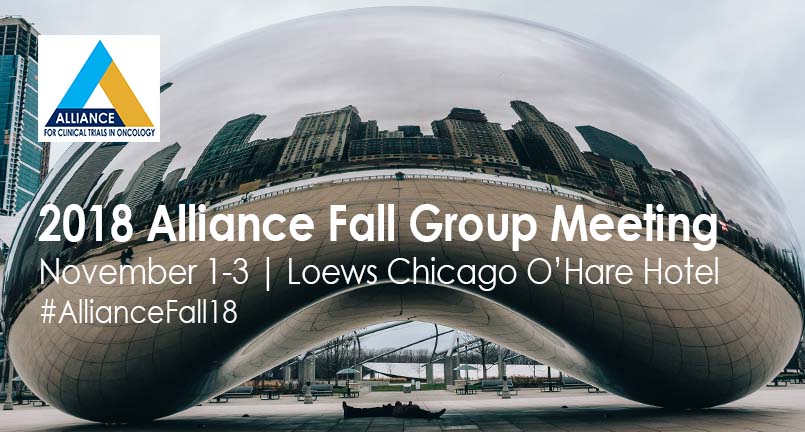 UPCOMING FALL GROUP MEETING CONVENES NOVEMBER 1-3
The Alliance for Clinical Trials in Oncology will convene its 2018 Fall Group Meeting in Chicago November 1-3. Scientists, clinical research professionals, patient advocates and others interested in the latest developments in cancer research are expected to attend the three-day meeting at the Loews Chicago O'Hare Hotel. Meeting attendees will select from nearly 100 disease, modality, administrative and special sessions to attend led by distinguished oncology researchers and clinical trial specialists from across the country. This meeting will showcase novel and innovative cancer control, prevention, and treatment trials that are conducted by investigators through a multidisciplinary academic and community research network, which is part of the NCI National Clinical Trials Network (NCTN) and Community Oncology Research Program (NCORP).
Preview the MEETING SCHEDULE and AGENDAS and REGISTER today.
The App's Back! We're happy to announce that the Alliance Meeting app for your mobile device will be back for this meeting! Note that this meeting's app will be slightly different from the one used during our spring meeting. It will still allow you to stay up-to-date on session changes and meeting room assignments, connect with fellow attendees, and much more! To get this meeting's app, go to the Apple App Store or Google Play Store, search for "2018 Alliance Fall Meeting" and download it. Then create an account with the e-mail you registered with and a new password. Be sure to allow up to 30 minutes after registering for your account to link up with the app.
MEETING HIGHLIGHTS
PLENARY SESSION
Friday, November 2 | 10 am-12:30 pm






Welcome and Group Chair Announcements
Monica M. Bertagnolli, MD, Alliance Group Chair
Alliance/American College of Surgeons Clinical Research Program Annual Lecture:
Phase III Randomized Clinical Trials, Pragmatic Trials and Big Data: What is the Future?
Lawrence N. Shulman, MD, Professor of Medicine at the Hospital of the University of Pennsylvania
Deputy Director for Clinical Services and Director of the Center for Global Cancer
Abramson Cancer Center, University of Pennsylvania
Richard L. Schilsky Cancer and Leukemia Group B Achievement Award Presentation
Awardee will be announced at session
"Transplantation and Cellular Therapy in 2018: Where are We Headed?"
Steven M. Devine, MD, Senior Vice President and Senior Medical Director of Research Operations
Center for International Blood and Marrow Transplant Research
"A Glimpse into the Alliance Statistics and Data Center"
Sumithra J. Mandrekar, PhD, Alliance Group Statistician
**********

18TH ANNUAL JIMMIE HOLLAND LECTURE
Friday, November 2 | 3:30 pm-4:30 pm
"Biobehavioral Aspects of Cancer: Basic Science to Translation"
Barbara L. Andersen, PhD
Distinguished University Professor
Distinguished Professor of Psychology
Ohio State University

**********
Oncology Nursing Education Session (Thursday, November 1 | 3:30 pm-5:30 pm) - Sean Park, MD, MS, PhD (Consultant, Department of Radiation Oncology, Mayo Clinic) will lead a discussion on checkpoint inhibition and radiation therapy induced anti-cancer responses. Dr. Park will also discuss the exploration of possible biomarkers to identify responders to therapy. Christine Bestivina, MD (Assistant Professor of Medicine, Department of Medicine, Hematology/Oncology, University of Chicago Medical Center) will present updates in lung cancer including genomic profiling and the role in lung cancer, as well as changes in targeted therapy over the last year. Dr. Bestivina will also discuss the role of immunotherapy in non-small cell lung cancer.

CRP/Oncology Nursing Roundtables and Open Forum (Friday, November 2 | 12 pm-2 pm) - Grab lunch from the buffet and come join other CRPs and nurses to network, share and ask questions during this roundtable and open forum. This will be a great opportunity to meet colleagues from other sites to share trial implementation success stories, side effect management strategies, and practice management. In the final hour, Oncology Nursing and CRP Committee Chairs will continue discussion in an open forum on the most recent happenings in Alliance trials.
**********
The CRP Information Session (Thursday, November 1 | 12:30 pm-3:30 pm) will provide information to CRPs, including clinic coordinators, research nurses, regulatory coordinators and data managers, regarding updates and resources. Much of this session will be devoted to managing FDA registration trials, including essential regulatory documents, protocol training, data management and tips on what FDA inspectors will look for, among other topics. The session will also include presentations from a patient advocate and staff from the CTSU, Alliance Statistics and Data Center, and Alliance Operations Center.
CRP Education Breakout Sessions
Thursday, November 1 | 4 pm-5 pm
• Boost Your CRP Skills - Session will focus on fine-tuning research coordinator skills, including data management and managing study participants.
• Lead CRA/Administrator Tips - Session will provide information on National Coverage Analysis and Funding sheets, OPEN funding reports, staff training and managing RCRs and DTLs from both NCORP and an academic site.

Friday, November 2 | 2:30 pm-3:30 pm
• Adverse Events (AE) Reporting - Session will dive into grading AEs utilizing the CTCAE and will highlight changes between CTCAE v 4.0 to CTCAE v 5.0. The session will also highlight how to utilize the SPEER and CTEP-AERs reporting of expedited adverse events.
CRP Education Session (Friday, November 2 | 8 am-10 am) - Michael Kelly, MA (Director, Alliance Central Protocol Operations) will provide detailed instruction on how to find and use the Alliance Protocol Status Sheet. Jennifer Chan, MD, MPH (Study Chair and Clinical Director, Program in Carcinoid and Neuroendocrine Tumor, Dana-Farber Cancer Center) will discuss her trial Alliance A021602 (Randomized, double-blinded phase III study of cabozantinib vs. placebo in patients with advanced neuroendocrine tumors after progression on everolimus (CABINET). Lori Minasian, MD, FACP (Deputy Director, NCI's Division of Cancer Prevention) will present on new NCI CIRB requirements. Matthew Boron, RPh (Senior Clinical Research Pharmacist, NCI's Pharmaceutical Management Branch) will provide an overview of the Delegation of Tasks Log (DTL), including DTLs for multiple site codes and what to consider when delegating DTL tasks.
**********
Alliance Poster Session and Reception
Friday, November 2 | 6 pm- 9 pm
This session will feature posters of all Alliance and AFT trials that are actively accruing patients, along with CRP/Oncology Nursing and Patient Advocate focused posters. The session will illustrate to all attendees the exciting work underway by Alliance researchers. These scientific poster presentations will be an integral part of the attendee experience.

**********
Alliance on Social Media
Share your meeting experience and session highlights using the hashtag - #AllianceFall18.
Find and follow us on Twitter - @ALLIANCE_org - and on Facebook at https://www.facebook.com/AllianceForClinicalTrialsInOncology/
For other articles in this issue of the Alliance E-News newsletter, see below.