E-Newsletter - December 2015
Alliance for Clinical Trials in Oncology
Receives CEO Roundtable on Cancer's
Dr. Charles A. Sanders Life Sciences Award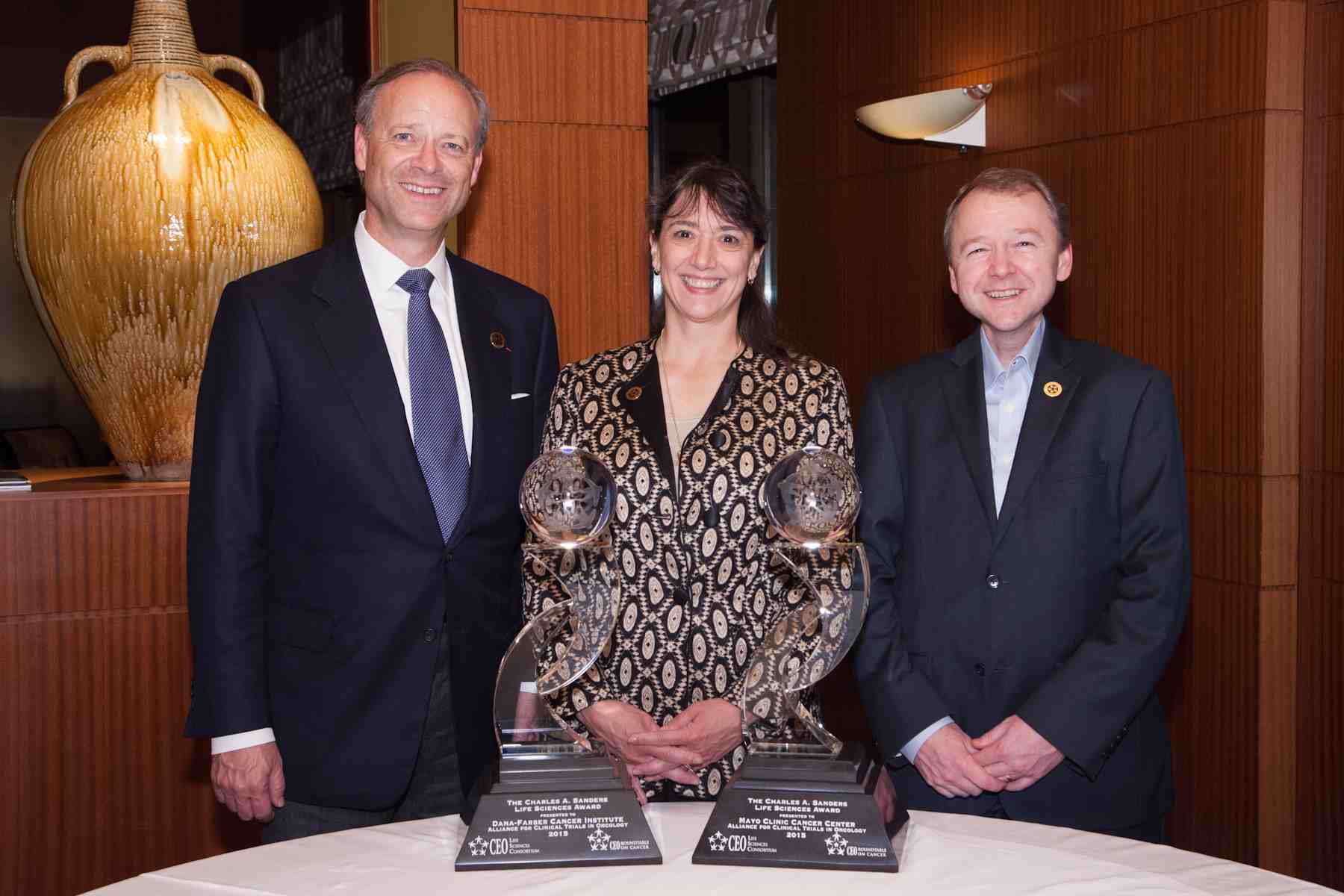 The Alliance for Clinical Trials in Oncology recently received the 2015 Dr. Charles A. Sanders Life Sciences Award from the CEO Roundtable on Cancer in recognition of its innovative and collaborative work on Project Data Sphere, LLC, an independent not-for-profit initiative of the CEO Roundtable on Cancer's Life Sciences Consortium. [In photo from left: Christopher A. Viehbacher, Immediate Past Chairman, CEO Roundtable on Cancer; Dr. Monica Bertagnolli, Group Chair, and Dr. Dan Sargent, Group Statistician, both of the Alliance.]
The Project Data Sphere data sharing platform (www.ProjectDataSphere.org) was launched in 2014 creating a novel library-laboratory for clinical trial research with the goal of advancing innovation in cancer research. Pfizer Oncology played an integral role in establishing the Project Data Sphere initiative as a pioneering data provider and was recognized as well for its role in actively encouraging others to participate in this unique data sharing initiative. In order to ensure that researchers can realize the full potential of clinical trial data, Project Data Sphere, LLC teamed with CEO Roundtable on Cancer member SAS Institute Inc. (SAS), a leader in data and health analytics, to make state-of-the-art analytic tools freely available to all researchers within the Project Data Sphere environment.
The Alliance received its award for demonstrating leadership that hastened the growth of the Project Data Sphere initiative by becoming the first National Clinical Trials Network (NCTN) group to speedily provide data to the initiative.
"The Charlie" award was created in honor of Dr. Sanders, former chairman and CEO of Glaxo Inc., who previously served as the Chairman of Project HOPE and director general of Massachusetts General Hospital. Dr. Sanders has been a driving force behind the innovation leading to improved drug development and has helped chart the course for health education and medical research in the United States and around the globe.
The CEO Roundtable on Cancer was founded in 2001, when former President George H.W. Bush challenged a group of executives to "do something bold and venturesome about cancer within your own corporate families." The CEOs responded by creating and encouraging the widespread adoption of the CEO Cancer Gold Standard™ which calls for organizations to evaluate their health benefits and workplace culture and take extensive, concrete actions in five key areas of health and wellness to fight cancer in the workplace.
For other articles in the December issue of the Alliance E-News newsletter, see below.