E-Newsletter - March 2019

ALLIANCE SPRING GROUP MEETING CONVENES MAY 8-11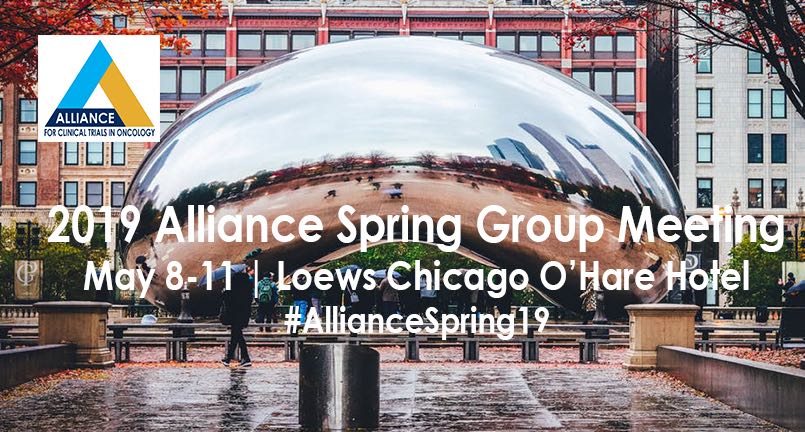 The Alliance for Clinical Trials in Oncology will convene its 2019 Spring Group Meeting in Chicago May 8-11. Scientists, clinical research professionals, patient advocates and others interested in the latest developments in cancer research are expected to attend the four-day meeting at the Loews Chicago O'Hare Hotel. Meeting attendees will select from nearly 100 disease, modality, administrative and special sessions to attend led by distinguished oncology researchers and clinical trial specialists from across the country. This meeting will showcase novel and innovative cancer control, prevention, and treatment trials that are conducted by investigators through a multidisciplinary academic and community research network, which is part of the NCI National Clinical Trials Network (NCTN) and Community Oncology Research Program (NCORP).
Preview the MEETING SCHEDULE and REGISTER today.
Stay tuned for more details about the following sessions.
-- New Investigators Course
-- Oncology Nursing Education Session
-- CRP Information, Education and Breakout Sessions
-- CRP/Nursing Roundtables and Reception
-- Oncology Nursing /CRP Open Forum
-- Health Disparities Education Session
-- Plenary Session
-- Cell Therapy State of the Art Symposium
-- Two-Day E-Poster Session
Note: New contact for Group Meeting Logistics.
For other articles in this issue of the Alliance E-News newsletter, see below.