E-Newsletter - December 2019
Perspectives from an Alliance Committee Chair

The times they are a-changin'
By Migu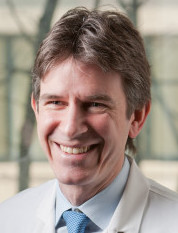 el-Angel Perales, MD
Deputy Chief, Adult Bone Marrow Transplantation Service
Director, Adult Stem Cell Transplantation Fellowship
Associate Member
Memorial Sloan Kettering Cancer Center
Chair, Alliance Transplant and Cell Based Therapies Committee
In 1965, E. Donnall Thomas described some of the challenges facing the nascent field of allogeneic hematopoietic cell transplantation (HCT). Pre-clinical and clinical observations at the time led to an emerging understanding that the use of immunosuppressive drugs and donor selection based on histocompatibility matching could reduce the incidence of marrow graft rejection and of secondary disease, now known as graft-versus-host disease (GVHD). More than five decades later, significant progress has been made in outcomes of patients undergoing allogeneic HCT, in large part through improved HLA typing that results in better donor selection, and improvements in GVHD prophylaxis and supportive care. In many ways, allogeneic HCT represents the original immunotherapy, where donor-derived T cells mediate anti-leukemic activity to treat persistent or recurrent disease. This is known as the graft-versus-leukemia (GVL) effect, and is probably best illustrated by the ability of donor leukocyte infusions to induce durable remissions in patients with chronic myelogenous leukemia (CML) who relapse after allogeneic HCT. While the overall number of HCT performed in the U.S. continues to rise, transplant indications have evolved over time. For example, with the approval of imatinib in 2001, allogeneic transplants for CML, which had been one of the most common indications, virtually disappeared. More recently, we have seen a similar though less dramatic impact of the development of novel agents in patients with non-Hodgkin lymphoma (NHL) and CLL. In contrast, the introduction of non-myeloablative and reduced-intensity conditioning has resulted in the ability to offer allogeneic HCT to older patients and patients with co-morbidities, thus extending a potentially curative treatment to these patients. Similarly, the use of cord blood as a graft source and haploidentical transplants using post-transplant cyclophosphamide has extended access to HCT to previously underserved populations such as minorities, who may not have a fully matched donor in the volunteer donor registry.
In recent years, the field of cellular therapy has undergone a revolution with the advent of chimeric antigen receptor (CAR) T cells. A CAR is a synthetic fusion protein that includes the variable portion of an antibody or single-chain variable fragment (scFv) that can target an antigen displayed on the surface of tumor cells, linked to a transmembrane domain TCR CD3 zeta chain, and most commonly co-stimulatory signaling domains from CD28 or 4-1BB. The synthetic gene is introduced in T cells using retroviral or lentiviral vectors that ensure genetic integration and constitutive expression. The best-studied CAR T cells have been those directed against CD19, which is normally expressed on mature and precursor B cells. It is also expressed on B cell malignancies, including B cell acute lymphocytic leukemia (ALL), CLL and NHL.
By late 2018, two CAR T cell products have been approved by U.S. and European regulatory authorities. Tisagenlecleucel (Kymriah, Novartis) is indicated in the treatment of patients up to 25 years old with B-cell ALL that is refractory or in second or later relapse (ELIANA trial), or adult patients with large B-cell lymphoma relapsed or refractory after two or more lines of systemic therapy (JULIET trial). Axicabtagene ciloleucel (Yescarta, Kite/Gilead) is also indicated for the treatment of adult patients with large B-cell lymphoma relapsed or refractory after two or more lines of systemic therapy, including primary mediastinal large B-cell lymphoma, for which tisagenlecleucel is not indicated (ZUMA-1 trial). Additional approvals for products in the same indications as well as other malignant diseases such as myeloma are expected in 2020. Furthermore, a large number of CAR T cells trials are ongoing in patients with hematologic malignancies and solid tumors. As of December 1, 2019, 277 trials of CAR T cells were listed on clinicaltrials.gov as active or recruiting.
Reflecting these changes in our field, the name of the Alliance Transplant Committee has changed to Alliance Transplant and Cell Based Therapies Committee. The committee has expanded its portfolio to include cellular therapies, and particularly CAR T cells. To this effect, the Alliance Cell Therapy State of the Art Symposium was held in May at the 2019 Alliance Spring Group Meeting in Chicago, IL. The goal of the symposium was to foster collaboration between different disease committees, not only in hematologic malignancies but also in solid tumors. Despite these significant advances in non-transplant options, in the words of Mark Twain, "The report of the death of HCT was an exaggeration." Over the next few years, the members of the committee hope to perform multi-center clinical trials in transplant as well as cellular therapies and position the Alliance at the forefront of cooperative group studies in this field.
For other articles in this issue of the Alliance E-News newsletter, see below.