In Memoriam: Daniel J. Sargent, PhD, Alliance Group Statistician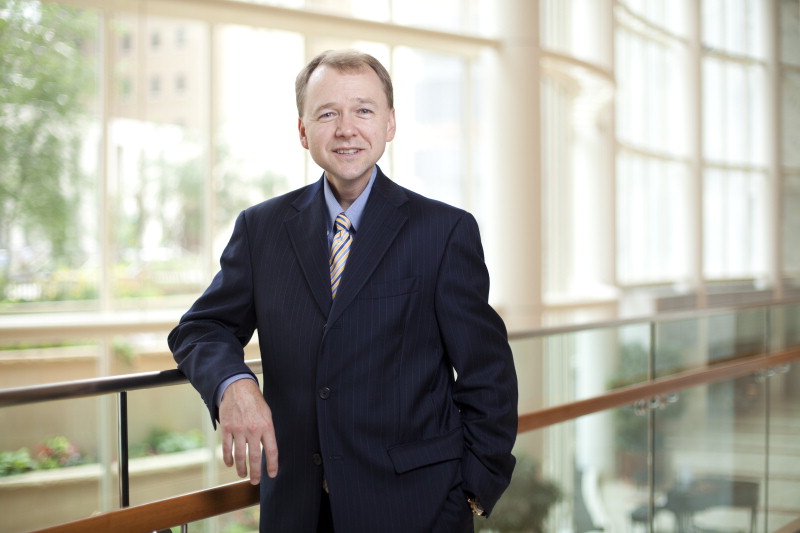 The cancer clinical research community suffered a tremendous loss on September 22, 2016 with the passing of Daniel J. Sargent, PhD, due to a sudden unexpected illness. Dan was a lifelong resident of Minnesota. He earned a BS in Mathematics and PhD in Biostatistics from the University of Minnesota, and then joined the faculty of the Mayo Clinic Rochester in 1996. At the time of his passing, he was the Ralph S. and Beverley E. Caulkins Professor of Cancer Research, and the Chair of the Division of Biomedical Statistics and Informatics in the Department of Health Sciences Research at the Mayo Clinic. Dan was a world expert in the area of oncology clinical trials. He led multiple international data pooling and analysis consortia including ACCENT in adjuvant colon cancer, the prospective IDEA international pooled analysis testing the duration of therapy in stage III colon cancer, and the FLASH international consortia in Follicular Lymphoma. He published extensively in colorectal cancer treatment, optimal clinical trial design and endpoints, and prognostic and predictive biomarkers.
The Alliance for Clinical Trials in Oncology (Alliance) would not have been created if it were not for Dan's efforts and particular talents. In 2010, Dan was elected to serve as Group Statistician for Cancer and Leukemia Group B (CALGB), providing an important bridge between CALGB and the North Central Cancer Treatment Group (NCCTG). This appointment was the catalyst that led to the 2011 merger of CALGB, NCCTG, and the American College of Surgeons Clinical Oncology Group to create the Alliance. The cancer cooperative groups are characterized by the tremendous loyalty of their members, and by the great passion that they bring to clinical trials research. As a result, it would have been impossible to merge three exceptional groups to create a new identity without the understanding that the whole would be greater than the sum of the parts. Dan's wonderful collaborative personality and the uncompromising quality of his team gave everyone the confidence to proceed.
On a very personal level, Dan was a rare mentor and friend to so many. His faculty members benefited by his approach of leading by guidance rather than by direction. He widely shared his love of research, his dedication to family, and his pleasure in getting good friends together for a meal. The quality of every facet of a full life was just better when Dan was around. He leaves behind many who will try very hard to follow his example.
Our thoughts and prayers are with Dan's dear wife Becky, and his children, Alec and Paige. A special memorial service for Dan was held at the Alliance Fall Group Meeting on November 4, 2016 in Chicago.
Alliance Memorial Service for Daniel J. Sargent, PhD Video
Celebration of Life - Daniel J. Sargent, PhD Tribute Book

Friends and colleagues were also invited to submit remembrances of Dan on this page.

I was so saddened to learn of Dan Sargent's passing and my heart goes out to his family, friends, colleagues and all who knew him. In my role at the NCI, I interacted with him in meetings and always found him to be exceptionally collaborative, wise and always willing to work hard to bring about the best results in any effort. He was so kind and thoughtful to work with and contributed greatly to the cancer clinical research community. May his memory serve to motivate all of us to keep moving the cancer research field forward!
All my best,
Andrea Denicoff
Head, NCTN Clinical Trials Operations
Scientific Liaison, Patient Reported Outcomes
Clinical Investigations Branch, CTEP, DCTD
National Cancer Institute, NIH

* * * * * * * * * * * * * * * * * *
We are deeply saddened by the news of Dan Sargent's sudden passing. Many of us at Celgene had the honor and privilege of working with Dan on multiple projects over the years. Through his collaborative spirit, leadership, and strategic thinking, Dan's work with the global cancer research community led to significant and incredibly meaningful outcomes for cancer patients worldwide.
Over several years, we worked with Dan on the FLASH international consortia, which was established to evaluate surrogate endpoints in Follicular Lymphoma to aid the development of new therapies. Dan was also instrumental in his role as the Alliance Group Statistician to prepare the CALGB 100104 study dataset for submission to the FDA. That submission was successfully made to the FDA in August of this year and would not have been possible without his leadership, analytical contributions, and terrifically talented teams at the Mayo Clinic and the Alliance.
Dan made a deep impression on us. We remember him as a brilliant, innovative thinker, and for his humble nature. When meeting with Dan, he always brought a warm smile and an open mind. He was willing to hear different sides of issues and worked hard to find solutions. Dan remains a role model and continues to inspire and motivate us to be our very best. Dan leaves a tremendous, lasting legacy to cancer research and to patients. We miss him dearly. Our thoughts and prayers are with his family.
Sincerely yours,
Celgene
October 2016

* * * * * * * * * * * * * * * * * *
When I think of Dan Sargent, I see his warm, generous smile that would light up a room. In my role at NCI, I had many opportunities to interact with him in meetings. He was always the calm and measured voice of reason. I think of one specific interaction when I was weighing a complex statistical issue that an internal statistician had raised. After completing the work at one meeting, I asked him about the issue, he smiled and immediately knew who and what I was talking about. In two minutes, he was able to validate the other statistician's concern about potential bias, and succinctly and kindly explain to me why it was not particularly relevant for Cooperative Group trials.

Dan was always a willing to help, sharing his expertise and knowledge in a gracious and generous manner and always with a wonderful sense of humor. He will be greatly missed.

Lori Minasian, MD,
Deputy Director, Division of Cancer Prevention, NCI
#####