UPCOMING SPRING VIRTUAL GROUP MEETING CONVENES MAY 12-15
The Alliance for Clinical Trials in Oncology will convene the 2021 Alliance Spring Virtual Group Meeting May 12-15. The four-day meeting continues to draw attendance from scientists, clinical research professionals, patient advocates, and others interested in the latest developments in cancer research to actively participate in interactive sessions. More than 80 disease, modality, administrative and special sessions led by distinguished oncology researchers and clinical trial specialists from across the country are scheduled. Like other meetings, this virtual meeting will showcase novel and innovative cancer control, prevention, and treatment trials conducted by investigators through a multidisciplinary academic and community research network, as part of the NCI National Clinical Trials Network (NCTN) and Community Oncology Research Program (NCORP).
To gain access to each Group meeting session, attendees must register in advance. Meeting registrants will receive an e-mail with instructions on how to download the Group meeting app, To access the web links for open sessions, registrants must log-in to either the meeting website or the phone/tablet mobile meeting app using the same credentials used to register. The web links will not be sent via e-mail or posted to the Alliance website. The website and app can also be used to browse sessions, view agendas and presentations, connect with other attendees, and more. Note: Closed sessions are by invitation only and information is not visible on the website or app. All questions about the meeting and registration should be addressed to AllianceTravel@bwh.harvard.edu.

CONGRATULATIONS!
Metro-Minnesota Community Oncology Research Consortium
2021 Alliance Spring Virtual Group Meeting Cover Design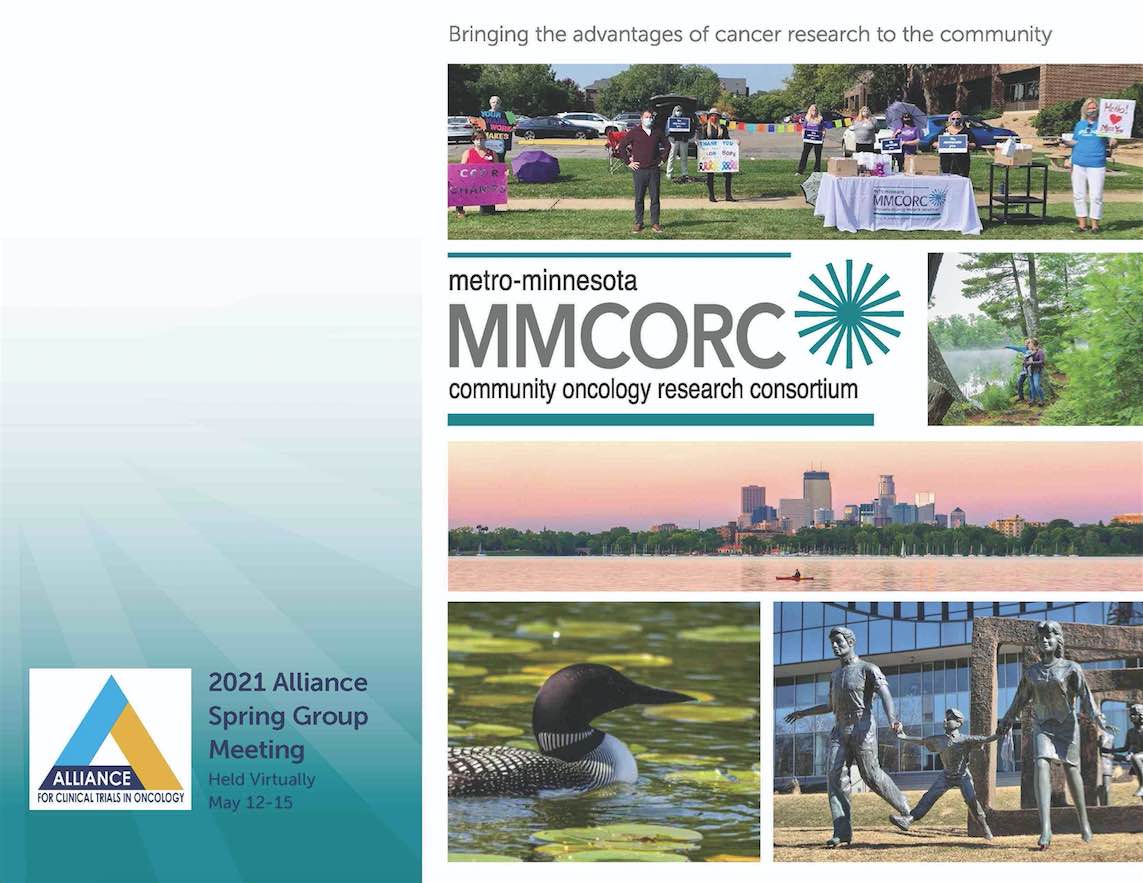 The meeting book can be found on the Alliance member website.

Meeting Highlights
Here's the meeting schedule.
Continue reading below for updated meeting highlights.
Note: All times are Central Standard Time (CST).

PLENARY SESSION
Friday, May 14 | 10 am-12:30 pm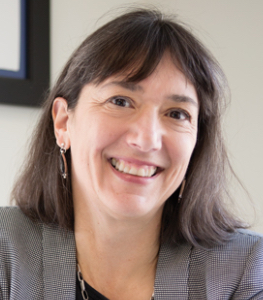 Welcome and Group Chair Announcements
Monica M. Bertagnolli, MD, Alliance Group Chair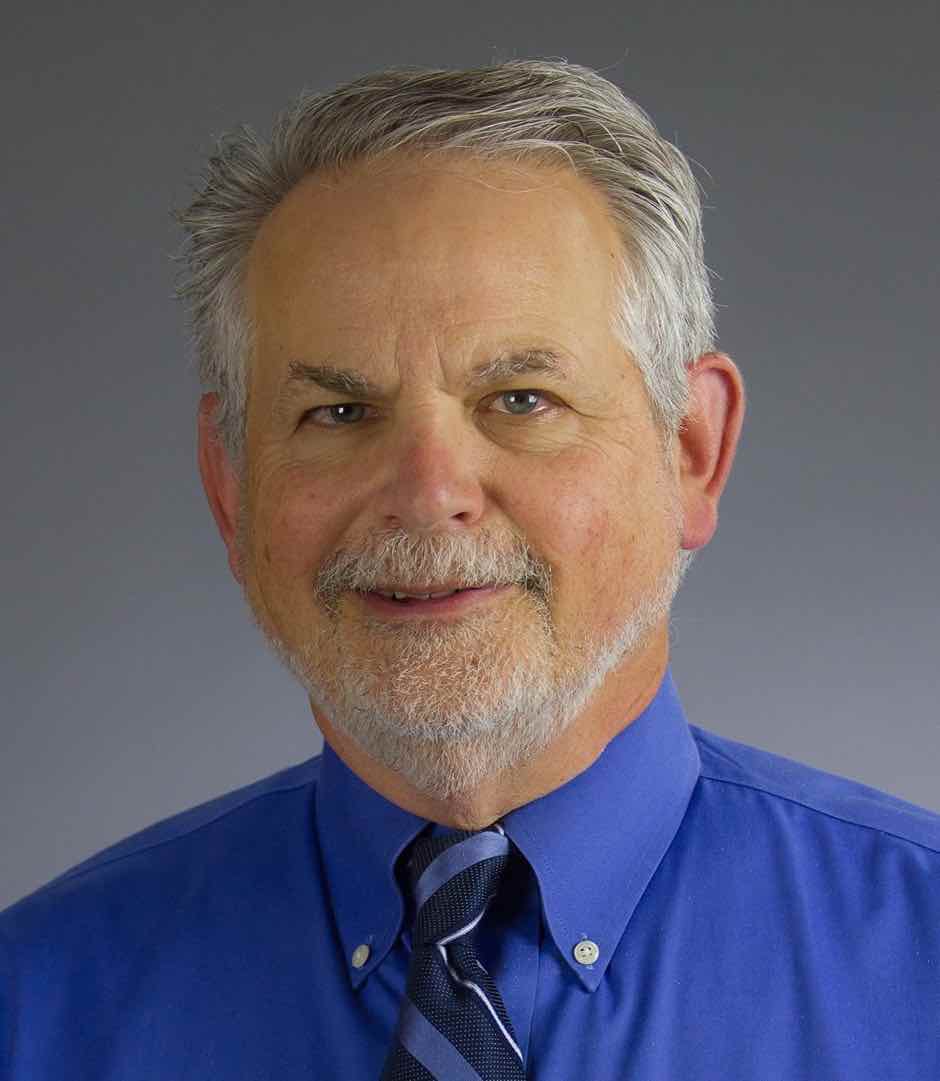 2020 Richard L. Schilsky Cancer and Leukemia Group B
Achievement Award

Jeffrey J. Kirshner, MD, FACP, FASCO
Lecture: "DSMB 101: Keeping Us All Safe and Sound!
(Don't Sweat Monica Bertagnolli!)"

Dr. Kirshner is Principal Investigator of Hematology Oncology Associates of Central New York and Director of Research for the HOACNY Community Clinical Oncology Program in New York. He also serves as Chair of the Alliance Data and Safety Monitoring Board and is a member of the Alliance Breast Committee, Alliance Symptom Intervention Committee, and Alliance Community Oncology Committee. He is proud to combine his passion for clinical research with the best in patient care. The RLS CALGB Achievement Award acknowledges the significant contributions of an individual to cooperative group research. It was established in 2010 to recognize the 15-year tenure of Dr. Schilsky as Group Chair of Cancer and Leukemia Group B (CALGB).
**********
CLINICAL RESEARCH PROFESSIONALS SESSIONS

The Clinical Research Professionals (CRP) Orientation (Wednesday, May 12 | 1 pm-3 pm) is targeted to CRPs, including data managers and nurses in their first 18 months as a CRP or in their first 18 months affiliated with Alliance trials. This session will provide an Alliance-specific overview of the organizational structure, the Alliance protocol template, best practices for checking eligibility, entering specimens in BioMS, and available resources for CRPs.
CRP Breakout: Data Management (Wednesday, May 12 | 3 pm-4 pm)
This session is designed for newer CRPs in oncology research and will give an overview of data management in RAVE along with several examples, tips, and tricks to assist with quality data submission.
CRP Breakout: Dose Modifications (Wednesday, May 12 | 4 pm-5 pm)
This session is targeted towards CRPs in their first 18 months of oncology research or CRPs new to therapeutic trials. This workshop will walk through several examples of patients with an adverse event who require a dose modification. Attendees will have the opportunity to practice identifying the appropriate dose modification in an interactive environment.
CRP Breakout: RECIST/iRECIST (Wednesday, May 12 | 5 pm-6 pm)
This session is targeted towards CRPs in their first 18 months of oncology research, CRPs new to therapeutic trials, or CRPs interested in learning about iRECIST for immunotherapy response. This session will cover RECIST and iRECIST training including working through several examples of imaging measurements to help determine response.
The CRP Information Session (Thursday, May 13 | 12:30 pm-3 pm) will provide information to CRPs, including data managers and nurses, regarding Alliance updates and resources. Presentations will include a patient advocate presentation, Alliance administrative updates from the Chicago office, Alliance Statistical and Data Management Center updates, and CTSU updates.
The CRP Education Session (Friday, May 14 | 8 am-10 am) will include three protocol presentations. First, Gavin Dunn, MD, PhD, of Washington University School of Medicine, will present Alliance A071702 (A phase II study of checkpoint blockade immunotherapy in patients with somatically hypermutated recurrent glioblastoma). Next, the new FDA registration trial, Alliance A011801 (The COMPASSHER2 Trials (Comprehensive use of pathologic response assessment to optimize therapy in HER2-positive breast cancer): COMPASSHER2 residual disease (RD), a double-blinded, phase III randomized trial of T-DM1 and placebo compared with T-DM1 and tucatinib) will be presented by Ciara O'Sullivan, MB, BCh, BAO, of Mayo Clinic. Finally, Katherine Reeder-Hayes, MD, UNC Lineberger Comprehensive Cancer Center, and Stephanie Wheeler, PhD, MPH, UNC Gillings School of Global Public Health, will present Alliance A191901 (Optimizing endocrine therapy through motivational interviewing and text interventions).
CRP Breakout: Remote Audit Preparation (Friday, May 14, 1 pm-2 pm)
This session is a collaboration between the Alliance Audit committee and sites with Alliance Remote Audit experience. This session will provide tips for best practices when preparing for a remote audit.
CRP Breakout: GU studies using iRECIST (Friday, May 14, 2:30 pm-3:30 pm)
The study chairs of Alliance A031704 (PD-inhibitor (nivolumab) and ipilimumab followed by nivolumab Vs. VEGF TKI cabozantinib with nivolumab: A phase III trial in metastatic untreated renal cell cancer [PDIGREE]) and Alliance A031901 (Duration of immune checkpoint therapy in locally advanced or metastatic urothelial carcinoma: A randomized phase 3 non-inferiority trial) will review their trials and iRECIST response criteria.
CRP Breakout: Site Administrator Roundtable (Friday, May 14, 5:30 pm-6:30 pm)
This roundtable is an opportunity for research administrators to discuss challenges and share solutions with each other.
**********
ALLIANCE STUDY CHAIR FORUM
Wednesday, May 12 | 3 pm-5 pm
This session is geared towards current and upcoming study chairs (as well as committee chairs and vice-chairs, etc.) and will be a great opportunity to learn best practices for Alliance study management.
Here's a brief agenda of the forum:
-- Overview of Study Development: From Concept Stage to Activated Protocol
-- Translational Research: Incorporating Biospecimens Collections and Correlative Science in Your Study
-- Investigational Agents: Considerations for Drug Distribution and IND
-- Collaborating with Pharmaceutical Partners and Other Commerical Vendors
-- Considerations for Studies with Registration
-- Conflict of Interest Considerations for Alliance Study Chairs
All slides will be available after the session to use as a resource. It is hoped that this session will contain helpful information to make working with the Alliance as seamless as possible. Those interested in attending, please be sure to register for the 2021 Alliance Study Chair Forum here.
**********
ICAREdata™ Working Group / General Information Session
Thursday, May 13 | 8 am-9:30 am
How do we gather more high-quality data needed to drive clinical oncology research? The Integrating Clinical Trials and Real Word Endpoints (ICARE)data project is testing an innovative approach to doing exactly that. In this session, attendees will learn more about the ICAREdata project, which is a collaboration between the Alliance for Clinical Trials in Oncology, the Dana-Farber Cancer Institute, and the MITRE Corporation. The overall goal of the ICAREdata project is to enable clinical oncology research by prospectively gathering high-quality real-world data.
**********
HEALTH DISPARITIES EDUCATION FORUM
Co-Sponsored by the Alliance Cancer Care Delivery Research Committee
Thursday, May 13 | 2 pm-4 pm
The Alliance Health Disparities Committee (chaired by Lucile Adams-Campbell, PhD) will co-host a stimulating CEU credit education forum with the Cancer Care Delivery Research Committee titled "Using Implementation Science to Address Disparities." Speakers will include: David Chambers, DPhil, National Cancer Institute (NCI); George Chang, MD, University of Texas MD Anderson Cancer Center; Heather Neuman, MD, University of Wisconsin School of Medicine and Public Health; and Jon Tilburt, MD, Mayo Clinic. Topics will include: a brief introduction to implementation science and how it can help address disparities in cancer care and advance cancer care delivery research; challenges faced and lessons learned in the development of an implementation science study designed to reach socioeconomically disadvantaged patients; and an overview of a completed implementation science study testing decision aids for prostate cancer in minority men. The session will also include an interactive panel discussion with these speakers and Alliance patient advocates Phyllis Pettit Nassi, MSW, Ivis Sampayo, and Coleen Crespo, MIS, who co-organized the forum with Jill Oliveri, DrPH.
**********
ALLIANCE FOUNDATION TRIALS (AFT) SESSIONS

Thursday, May 13
8:30 am-10 am | AFT Overview and Updates

1 pm-2 pm | AFT-25 COMET

Friday, May 14
8 am-9 am | AFT-38 PATINA
(open to Alliance members only)

9 am-10 am | AFT-05/PALLAS Study Updates

12:30 pm-1:30 pm | AFT Myeloma and Lymphoma Trials
1 pm-2 pm | AFT-50/EndoMAP
(open to Alliance members only)
3 pm-4 pm | AFT GU Studies: AFT-19 and AFT-47
(open to Alliance members only)
**********
CONTINUING EDUCATION CREDITS

RN, OCN, ACRP - ONA Credit - The Ohio Nurses Association (ONA) is the largest approver unit of CE credit in the country, accredited by the American Nurses Credentialing Center's Commission on Accreditation. A total of 10.5 ONA credits have been submitted for approval. To receive ONA credit, attendees must complete a required survey e-mailed to them after the meeting.

CCRP - SoCRA Credit - The Society of Clinical Research Associates (SoCRA) provides training, continuing education, and an internationally recognized certification program that promotes quality clinical research to protect the welfare of research participants and improve global health. A total of 32.5 credit hours will be offered, including concurrent sessions, at this meeting. To receive SoCRA credit, attendees must complete a required survey e-mailed to them after the meeting.
**********
ALLIANCE ON SOCIAL MEDIA
Share your meeting experience and session highlights using the hashtag - #AllianceSpring2021.
Find and follow us on Twitter: @ALLIANCE_org and on Facebook at https://www.facebook.com/AllianceForClinicalTrialsInOncology/
**********
HELPFUL ZOOM GUIDES & TOOLS