E-News - April 2020

it's virtual: ALLIANCE SPRING GROUP MEETING CONVENES MAY 14-16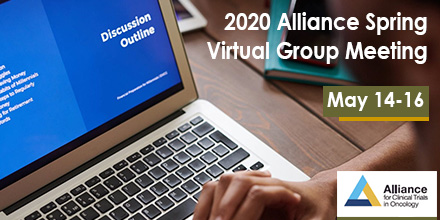 The Alliance for Clinical Trials in Oncology will convene its 2020 Spring Group Meeting May 14-16 virtually. Scientists, clinical research professionals, patient advocates and guests will tune into their laptops, smartphones or other devices to discuss and learn about the latest developments in cancer research. With more than 40 open meetings and 20-plus closed sessions, Alliance will continue to move forward. Led by distinguished oncology researchers and clinical trial specialists from across the country, Alliance will showcase novel and innovative cancer control, prevention, and treatment trials that are conducted by investigators through a multidisciplinary academic and community research network, which is part of the NCI National Clinical Trials Network (NCTN) and Community Oncology Research Program (NCORP).
Here's a printable meeting schedule.
Be sure to register today!
For sessions that are open to all Alliance members, web links and dial-in information, along with agendas, are posted on the Alliance website (About>Meetings>Meeting Presentations) for the public and (Meeting Presentations & Materials) for Alliance members.

For closed meetings, web links and dial-in information have been sent to specific committees rather than posting these details online.
If you have questions, please contact Christina Patel, Alliance Meetings and Events Coordinator, by e-mail capatel@bwh.harvard.edu