Alliance E-News - March 2022
Spotlight on Alliance Group Meeting

REGISTRATION OPENS FOR 2022 SPRING HYBRID GROUP MEETING May 11-14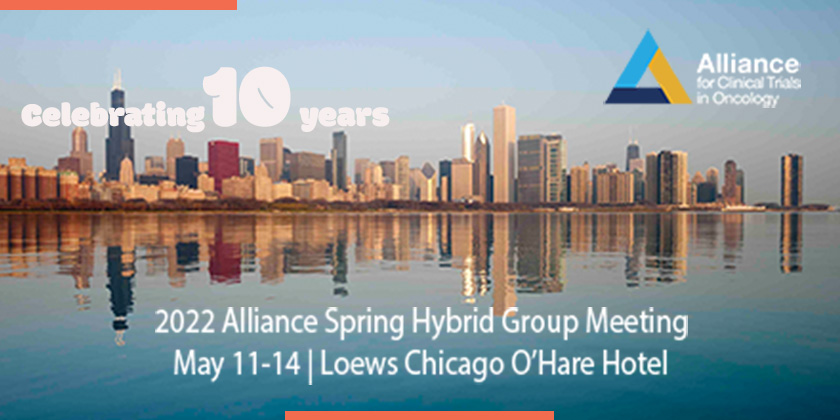 Join us as we celebrate our 10-year anniversary in Chicago this May. It's been two years since our last face-to-face Group meeting, and we look forward to connecting with you at the 2022 Alliance Spring Hybrid Group Meeting. We will be reviewing our accomplishments over the past 10 years, and, as always, engaging the entire Alliance community in planning for the future. This will be our first hybrid meeting where members can attend either in-person or online, so we hope that everyone will participate.
Visit Cvent to manage your registration.
To view the meeting schedule, click here.
Remember: sessions listed as closed are only open to official committee members and invited guests. Registration must be completed to gain access to the Zoom information on the meeting website. For questions about the Group meeting, please contact AllianceTravel@bwh.harvard.edu.
One more ask: If you have photos of Alliance members engaging in Alliance-related activities (at Group meetings, at sites/institutions, etc.) from 2011 to present, share them with us by March 25. These photos will be included in a special meeting book and in other anniversary presentations. Send photos, including brief descriptive captions, to Alliance10Year@AllianceNCTN.org.
Social Media Hashtag: #AllianceSpring2022
Online Meeting Sessions
To gain access to each Group meeting session, attendees must register in advance. To access the web links for open sessions, registrants must log in to either the meeting website or the phone/tablet mobile meeting app using the same credentials used to register. Weblinks only will be available on the meeting website and app. The website and app can also be used to browse sessions, view agendas and presentations, connect with other attendees, and more. Note: Closed sessions are by invitation only and information is not visible on the website or app.