E-News - May 2023
Update on Alliance Initiatives


ALLIANCE PEP to partner with more trials this year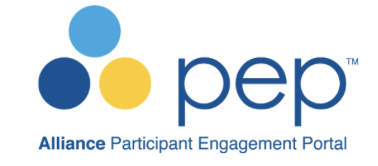 Partnering with additional trials, including AFT-57 (non-small cell lung cancer) and Alliance A052101 (INTERCON/mantle cell lymphoma), is a key focus of the Alliance Participant Engagement Portal (PEP) this year. The Alliance PEP provides an innovative new way to keep clinical trial participants engaged at key touchpoints throughout the trial. Through ongoing communication, PEP participants can remain an active part of their clinical trial throughout their cancer care journey. The bidirectional communication at key touchpoints during the trial is a pillar of the portal's functionality and capabilities.
The Alliance PEP was deployed in August 2022 in the Alliance Multicancer Early Detection (MCED) Biobank Study (A212102). Since then, the portal has registered about 700 participants through its public website (https://mced.alliancepep.org). Registered participants complete surveys and receive trial specific communications and education. Alliance PEP surveys allow participants to self-report demographic data and information pertaining to social determinants of health (SDOH).
New activities for the Alliance PEP include the use of feedback surveys to participants, as well as focus groups, which are being conducted across the country. These focus groups look to include people in diverse populations, including inner city, rural, and Spanish speaking people. Information learned from these session will inform potential changes or improvements to the portal. The PEP team is also exploring different ways of providing educational materials and resources.
To learn more about the Alliance PEP, please e-mail pep.info@alliancepep.org. PEP is being led by Suzanne George, MD, Alliance Interim Group Chair, with support from Rachel Freedman, MD, MPH, Alliance Executive Officer for PE, Nancy Campbell, MSM, RN, Clinical Research Nurse Manager, ICAREdata®, and the Alliance Patient Advocate Committee. The Alliance gratefully acknowledges the MITRE Corporation and Genentech for their work and support in creating PEP.