E-News

Call for Nominations - 2019 Jimmie C. Holland LECTURER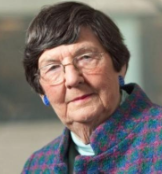 Jimmie C. Holland, MD, founded the field of psycho-oncology, a discipline devoted to studying psychological, social, and behavioral factors that may affect outcomes in patients with cancer. Dr. Holland was a leader in the CALGB/Alliance and has trained many Alliance cancer clinicians and researchers in this field. Dr. Holland's groundbreaking research has vastly improved overall treatment outcomes by increasing our ability to address psychological and quality of life issues associated with a cancer diagnosis and treatment.

The Jimmie Holland Lecture is given each fall during the Alliance Group Meeting as part of the Health Outcomes Committee meeting. It was established to honor Dr. Holland's contributions to the field of psycho-oncology in the CALGB/Alliance. Those receiving this honor have demonstrated notable contributions in psycho-oncology, contributing to Dr. Holland's legacy.

We are currently seeking nominations for the Jimmie Holland Lecturer for the 2019 Alliance Fall Group Meeting. The Jimmie Holland Lecturer is an investigator whose research has resulted in a major impact in the field of psycho-oncology. Any member of the Alliance may nominate such a lecturer. The selection committee will consist of the Co-Chairs and Co-Vice Chairs of the Alliance Health Outcomes Committee.

The deadline for nominations is Friday, June 28, 2019. Please describe the contributions of your nominee in a brief letter or e-mail and submit your nomination by e-mail to Jackie Lafky, Alliance CCP Program Manager, at lafky.jacqueline@mayo.edu.