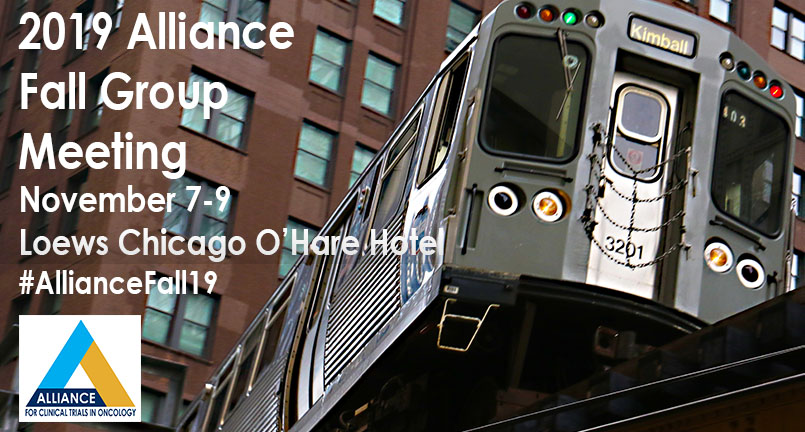 UPCOMING FALL GROUP MEETING CONVENES NOVEMBER 7-9
The Alliance for Clinical Trials in Oncology will convene its 2019 Fall Group Meeting in Chicago November 7-9. Scientists, clinical research professionals, patient advocates and others interested in the latest developments in cancer research are expected to attend the three-day meeting at the Loews Chicago O'Hare Hotel. Meeting attendees will select from nearly 100 disease, modality, administrative and special sessions to attend led by distinguished oncology researchers and clinical trial specialists from across the country. This meeting will showcase novel and innovative cancer control, prevention, and treatment trials that are conducted by investigators through a multidisciplinary academic and community research network, which is part of the NCI National Clinical Trials Network (NCTN) and Community Oncology Research Program (NCORP).
Review the MEETING SCHEDULE, AGENDAS, ePOSTERS and REGISTER today.
The App's Back! The Alliance Meeting app is now available for download on your mobile device. To get the meeting app, go to the Apple App Store or Google Play Store, search for "Alliance Group Meetings" and hit "download." Then create an account with the e-mail you registered with and a new password. Allow up to 30 minutes after registering for your account to link up with the app.
E-POSTERS! ePosterboard is back again! It's the digital alternative for poster presentations that utilizes large format, 47-inch flat panel monitors instead of paper posters. Fifteen double-sided, electronic displays (or kiosks) will dot the area around the meeting registration desk. Kiosks will be loaded with up to four posters on each side to showcase all active Alliance and AFT trials. Posters will be on display all day Friday, November 8, 7 am to 7 pm. Study chairs are encouraged to spend time in the area to answer questions. To find posters onsite, use this assignment sheet to locate kiosk numbers. PDFs of posters can also be downloaded here.
MEETING HIGHLIGHTS
PLENARY SESSION
Friday, November 8 | 10 am-12:30 pm






Welcome and Group Chair Announcements
Monica M. Bertagnolli, MD, Alliance Group Chair

Richard L. Schilsky Cancer and Leukemia Group B Achievement Award Lecture: "Radiation Therapy QA for the NCI Groups Over Four Decades"
Frances (Fran) Laurie, Former Director of Operations, IROC Rhode Island/QARC; Academic Administrator, Department of Radiation Oncology, University of Massachusetts Medical School

"Redefining Clinical Trial Imaging Endpoints: Big Data, AI and Radiomics"
Lawrence H. Schwartz, MD, James Picker Professor and Chairman, Department of Radiology, Columbia University Medical Center; Chief, Radiology Service and Attending Physician, New York-Presbyterian Hospital

"Where We Are and Where We Are Going in Treating GI Cancers: The Alliance GI Committee"
Jeffrey A. Meyerhardt, MD, MPH, Douglas Gray Woodruff Chair in Colorectal Cancer Research; Clinical Director and Senior Physician, Gastrointestinal Cancer Center; Deputy Clinical Research Officer; Co-Director of the Colon and Rectal Cancer Center, Dana-Farber Cancer Institute
Eileen M. O'Reilly, MD, Winthrop Rockefeller Chair of Medical Oncology; Associate Director for Clinical Research, David M. Rubenstein Center for Pancreatic Cancer; Section Head HPB & Neuroendocrine Cancers, Memorial Sloan Kettering Cancer Center
Alliance/American College of Surgeons Clinical Research Program Lecturer: "Rapid Adoption of Tyrosine Kinase Inhibitors in GIST Through Clinical Trials"
Ronald P. DeMatteo, MD, FACS. John Rhea Barton Professor of Surgery; Chair, Department of Surgery, Perelman School of Medicine, University of Pennsylvania
**********

19TH ANNUAL JIMMIE HOLLAND LECTURE
Thursday, November 7 | 3 pm-4 pm
"Psychosocial Care for People with Cancer: The Role of Healthcare Delivery Research"
Paul Jacobsen, PhD, Associate Director, National Cancer Institute (NCI) Division of Cancer Control and Population Science's (DCCPS) Healthcare Delivery Research Program (HDRD)


**********
2019 Alliance Scholar Awards
funding support: Pharmacyclics and AbbVie
Rebecca A. Snyder, MD, MPH
Assistant Professor, Brody School of Medicine, East Carolina University
"Access to Cancer Care for Rural Patients: Developing and Implementing a Validated Measure to Identify Patients at High Risk of Transportation Barriers"

Arpit Rao, MBBS
Assistant Professor, University of Minnesota Masonic Cancer Center
"Response-adaptive Imaging Strategy in Metastatic Castration-resistant Prostate Cancer"

2019 Daniel J. Sargent, PhD Memorial Fellowship in Innovative Clinical Trial Design and Methods
David Zahrieh, PhD
Assistant Professor, Health Sciences Research, Mayo Clinic
"Composite Response Endpoint to Evaluate Effectiveness of New Interventions for the Prevention of Oxaliplatin-induced Peripheral Neuropathy"
**********
INSTITUTIONAL PI WORKSHOP
Primary Topic: Accrual Management
Friday, November 8 | 12:15 pm-3 pm

Institutional PIs and administrators, especially those new to the role, will participate in an open discussion of the challenges of enrolling patients on clinical trials. A panel of PIs/administrators representing multiple types of members (LAPS, NCORPs, community-based and academic) will address questions/concerns and provide insight into best practices for overcoming these challenges. Moderated by Alliance Membership Committee Chair Daniel Nikcevich, MD, PhD, panelists will include Bret Friday, MD, PhD and Tammie Mlodozyniec, CCRP (Essentia Health NCORP), Jeff Crawford, MD (Duke University LAPS), Oana Danciu, MD and Darlene Kitterman (University of Illinois), Gary Unzeitig, MD (Doctor's Hospital of Laredo), and Doug Weckstein, MD (New Hampshire Oncology Hematology PA).

Two breakout sessions will be offered following the Institutional PI Workshop:

Rural Communities Breakout (3 pm-4 pm)
Tara Henderson, MD, MPH (University of Chicago) and Daniel Nikcevich, MD, PhD (Essentia Health NCORP) will moderate a discussion to identify the needs and suggest best practices for increasing access to clinical trials for rural communities.

Site Administrators/Lead CRPs Breakout (3 pm-4 pm)
Trini Ajazi, MM, Alliance Chief Administrative Officer, will moderate a discussion regarding challenges and solutions to facilitate trial activation at the site level. This session is also aimed at discussing issues related to site agreements with Alliance and AFT to identify ways that Alliance can assist sites.
**********
CLINICAL RESEARCH PROFESSIONALS SESSIONS

The CRP Information Session (Thursday, November 7 | 12:30 pm-3:30 pm) will provide information to CRPs, including data managers and nurses. This session will include Alliance Chicago office updates in addition to a presentation by Dena Battle, an Alliance patient advocate, and end with an in-depth training on iRECIST by Scott H. Okuno, MD, Chair of the Alliance Audit Committee.

CRP Breakout Sessions
CRP Orientation Refresher (Thursday, November 7 | 3 pm-5 pm). This two-hour session will be geared toward CRPs working on Alliance trials for less than two years and will include discussion on the Alliance protocol template, BioMS training, data management tips and tricks, and an Alliance website overview of CRP resources.

Lead CRA/Administrator: NCORP Sites (Thursday, November 7 | 3 pm-4 pm). This one-hour session will provide an opportunity for NCORP Lead CRPs and administrators to discuss coordinator training resources and strategies, how to utilize reports, and share best practices among sites.

Lead CRP/Administrator: Non-NCORP Sites (Thursday, November 7 | 4 pm-5 pm). This one-hour session will target main member and LAPS sites to discuss coordinator training resources and strategies, organizational structures, and best practices for program oversight.

The CRP Education Session (Friday, November 8 | 8 am-10 am) will include a presentation by Ellen Smith, APRN, PhD, study chair for Alliance A221805: Duloxetine to prevent oxaliplatin-induced peripheral neuropathy. Mark Watson, MD, PhD, Director of Alliance Biorepositories, will describe the critical responsibility of collecting and submitting specimens by presenting results and findings that have come from Alliance correlative studies. Marie Wood, MD, study chair, will present Alliance A211601: Evaluation of mammographic breast density effect of aspirin: A companion to Alliance study A011502. Other presentations will include updates from CTSU and the Alliance Statistics and Data Management Center.

CRP Breakout Sessions
A151804: National biorepository to advance studies of immune-related adverse events(Friday, November 8 | 1 pm-2 pm). David Kozono, MD, PhD, study chair, will discuss this new protocol and invite sites to share and brainstorm how to effectively implement the trial at their site.

A031704: Nivolumab + ipilimumab followed by nivolumab vs. cabozantinib with nivolumab in metastatic renal cell cancer (PDIGREE) (Friday, November 8 | 2 pm-3 pm). Tian Zhang, MD, study chair, will present this recently activated trial for patients with metastatic renal cell cancer.

A071701: Genomically-guided treatment trial in brain metastases
(Friday, November 8 | 2 pm-3 pm). Priscilla Brastianos, MD, study chair, will provide an overview of and invite attendees to discuss best practices for this trial's site implementation.
**********
ONCOLOGY NURSING SESSIONS

Oncology Nursing Education Session (Thursday, November 7 | 12 pm-2 pm)

A221805: Bedside to bench to bedside: managing painful chemotherapy-induced peripheral neuropathy (CIPN). Ellen Smith, APRN, PhD, of the University of Michigan Comprehensive Cancer Center, will present this upcoming trial for peripheral neuropathy.

Safely stopping pre-medications in patients receiving paclitaxel: A randomized phase III trial. Maryam Lustberg, MD, MPH, of Ohio State University Comprehensive Cancer Center-James, Charles Loprinzi, MD, of Mayo Clinic, and Leslie Dunlea, RN, of Stephanie Spielman Comprehensive Breast Cancer Center, will present this upcoming trial for paclitaxel premedication.
*CEU credit will be offered for both sessions.
Oncology Nurse/CRP Open Forum (Friday, November 8 | 12 pm-1 pm)
**********
ALLIANCE FOUNDATION TRIALS (AFT) SESSIONS

Thursday, November 7
8 am-9 am
AFT Lymphoma / AFT-32
(Session is closed to Alliance members only)

9 am-10 am
AFT Lung Studies / AFT-09, AFT-16, AFT-42, AFT-46

12 pm-1pm
AFT Information Session

Friday, November 8
(These sessions are closed to Alliance members only)
8 am-9 am
AFT-27, AFT-28

12:30 pm-1:30 pm
AFT-38 PATINA

1:30 pm-2:30 pm
AFT-25 COMET

2:30 pm-3 pm
AFT-39

2:30 pm-3:30 pm
AFT-05 PALLAS

Saturday, November 9
8 am-9 am
AFT Prostate Studies / AFT-19, AFT-47

10 am-11 am
AFT Myeloma Studies / AFT-15, AFT-29, AFT-41
**********
CONTINUING MEDICAL EDUCATION

MD, PhD, DO - CME Credit - This activity has been planned and implemented in accordance with the Essential Areas and Policies of the Accreditation Council for Continuing Medical Education (ACCME) through the joint sponsorship of the University of Chicago Pritzker School of Medicine and the Alliance. The University of Chicago Pritzker School of Medicine is accredited by the ACCME to provide continuing medical education for physicians. The University of Chicago Pritzker School of Medicine designates this activity for up to 14 category 1 credits toward the AMA Physician's Recognition Award. Each physician should claim only those credits that he/she earned in the activity.

CONTINUING EDUCATION CREDITS

RN, OCN, ARNP - ONA Credit- The Ohio Nurses Association (ONA) is the largest approver unit of CE credit in the country, accredited by the American Nurses Credentialing Center's Commission on Accreditation. A total of 8.75 contact hours have been submitted for approval. To receive ONA credit, attendees must complete a required survey e-mailed to them after the meeting.

CCRP - SoCRA Credit - The Society of Clinical Research Associates (SoCRA) provides training, continuing education, and an internationally recognized certification program that promotes quality clinical research to protect the welfare of research participants and improve global health. A total of 32 credit hours will be offered, including concurrent sessions, at this meeting. To receive SoCRA credit, attendees must complete a required survey e-mailed to them after the meeting.
**********
ALLIANCE ON SOCIAL MEDIA

Share your meeting experience and session highlights using the hashtag - #AllianceFall19. Find and follow us on Twitter: @ALLIANCE_org and on Facebook at https://www.facebook.com/AllianceForClinicalTrialsInOncology/
For other articles in this issue of the Alliance E-News newsletter, see below.