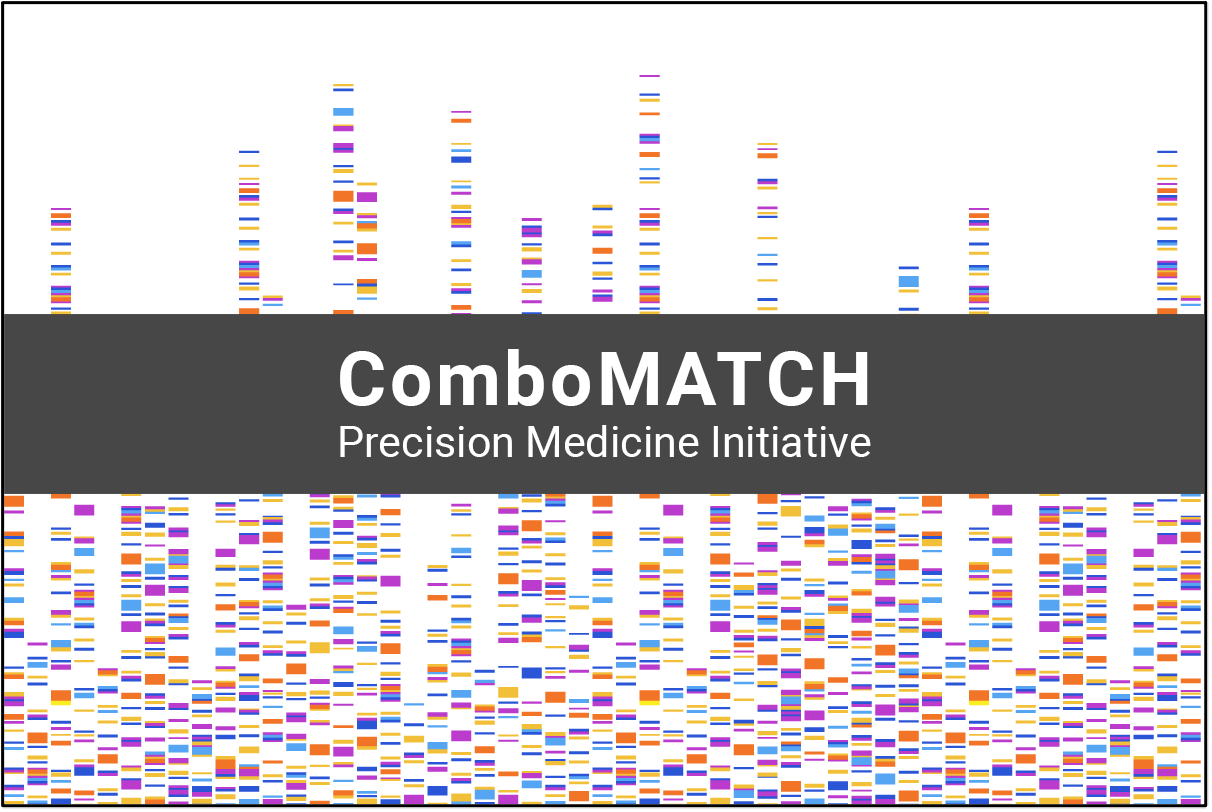 ComboMATCH TREATMENT TRIALS
ComboMATCH is a large precision medicine initiative with a coordinated set of clinical trials evaluating new anti-cancer drug combinations in select groups of adults and children with cancer. Each trial studies the effectiveness of a specific drug combination in a select group of patients (called a phase 2 trial design). The drug combinations are either two targeted therapies or chemotherapy with a targeted drug. Targeted therapy is a type of cancer treatment that targets the changes in cancer cells that cause them to grow, divide, and spread.
Generally, this set of trials is for patients with advanced solid tumors. However, each trial has its own patient inclusion and exclusion criteria, such as the targeted tumor gene abnormalities, type of cancer, stage of disease, prior treatment, age of the patient, etc. Therefore, patients must first enroll in the ComboMATCH Patient Registration Trial (EAY191) for a screening assessment to help determine eligibility for a treatment trial. Genetic tests look at the unique genetic material (genes) of patients' tumor cells. Patients with some genetic changes or abnormalities (mutations) may benefit from treatment that targets that particular genetic mutation. ComboMATCH is designed to match patients to a treatment that may work to control their tumor.
Treatment Trials
ComboMATCH is an exciting system-wide collaboration. The Alliance for Clinical Trials in Oncology, Children's Oncology Group, ECOG-ACRIN Cancer Research Group, NRG Oncology, and SWOG Cancer Research Network, lead the various treatment trials with funding from the National Cancer Institute through its National Clinical Trials Network (NCTN). Nine treatment trials are planned for ComboMATCH, opening to patient enrollment on a rolling basis.
To learn more about a particular treatment trial, click the Trial ID in the table below.
These links will open the federal trial record.
Drug Combination / Molecular Target(s)

Trial ID / Lead Group

Status

Fulvestrant hormonal therapy & binimetinib in hormone receptor positive (HR+) breast cancers with NF1 mutation or NF1 whole gene deletion

EAY191-N2
NRG Oncology

Active

Chemotherapy & binimetinib in RAS, RAF, MEK, ERK mutations

EAY191-A6
Alliance

Active

Paclitaxel chemotherapy & ipatasertib in AKT mutations

EAY191-S3
SWOG

Active

Nilotinib & paclitaxel chemotherapy in tumors previously treated with taxane chemotherapy

EAY191-E4
ECOG-ACRIN

Active

Olaparib & alpelisib in various abnormalities

EAY191-A2
Link to Come
Alliance

In Review

Palbociclib & binimetinib in RAS mutations

EAY191-A3
Alliance

In Review

Selumetinib & DAY101

EAY191-C1
Link to Come
Childrens' Oncology

In Review

Selumetinib & olaparib in RAS pathway mutations

EAY191-N4
NRG Oncology

Active

Sotorasib & panitumomab in KRAS G12C mutations

EAY191-E5
ECOG-ACRIN

In Review

Questions?
Patients interested in learning more about ComboMATCH should start by speaking with their doctor or healthcare team

Reach out to the Contact Center at the National Cancer Institute, where trained specialists answer cancer-related questions in English and Spanish
Study personnel with questions about ComboMATCH may send an e-mail to the National Cancer Institute