E-Newsletter - July 2022
New Alliance Initiative

ALLIANCE PROGRAM to FOCUS on DEVELOPING New APPROACHES TO TREAT LOCAL-REGIONAL DISEASE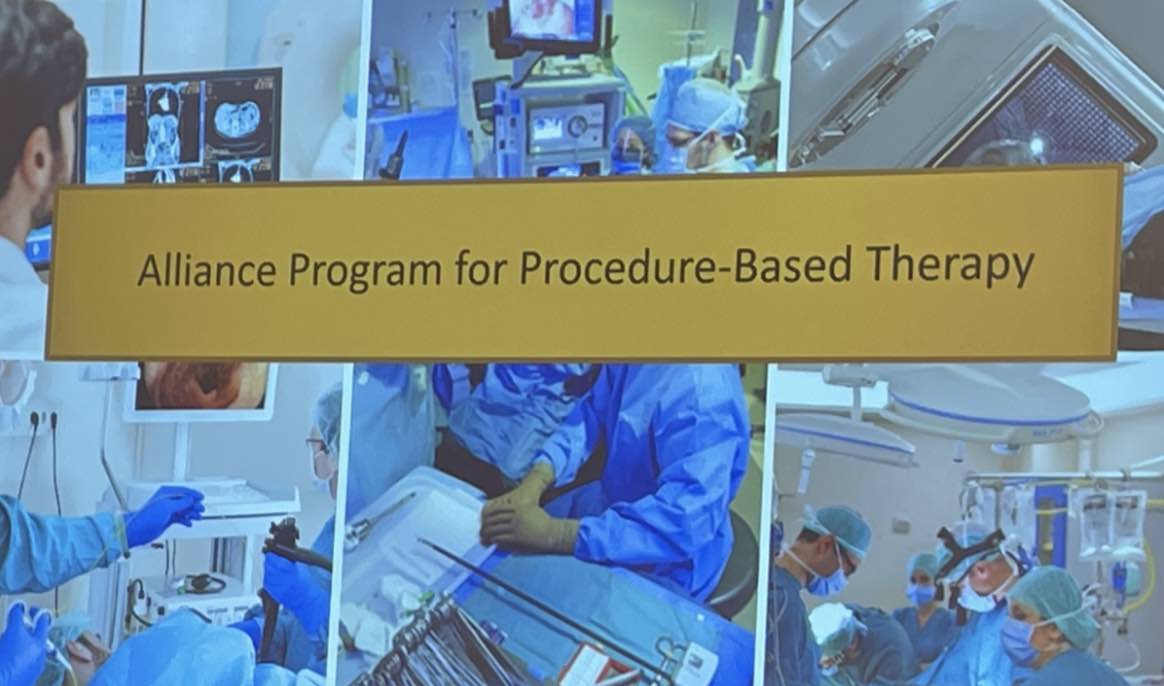 The Alliance for Clinical Trials in Oncology Board of Directors recently approved the establishment of a new program known as the Alliance Program for Procedure-Based Therapy (PPBT). The new program will address the unique features and challenges of developing new approaches to treating local-regional disease and will include developing strategies to optimize the contributions of standard approaches to surgery, radiation therapy, and interventional radiology to multimodality cancer treatment. Examples of these include minimally invasive surgery, brachytherapy, radiofrequency ablation, endoscopic surgery and ablation, wearable monitoring devices, and implantable drug delivery systems.
Capabilities required within the new program include surgery, radiation oncology, diagnostic imaging, interventional radiology, medical interventional specialists, regulatory affairs for device development, patient advocates, biostatisticians, and the ability to lead Alliance trials. Cross-committee collaboration will be an essential cornerstone among disease, cancer control, translational research, and statistics and data management areas. Alliance Radiation Oncology and Imaging committees will transition into the new program with a name change for the Imaging Committee to the Imaging and Interventional Radiology Committee. The PPBT will consist of four scientific committees (Program Steering Committee, Radiation Oncology Committee, Imaging and Interventional Radiology Committee, and Surgical Oncology Committee) and one administrative committee (Quality and Regulatory Affairs Committee).
The mission of the PPBT will be to improve the lives of cancer patients by achieving the multidisciplinary collaboration required to meet the unique challenges of developing and testing new devices and procedure-based cancer management approaches. Its vision statement: Alliance will be a leader in translating innovations in surgery, radiation oncology, interventional medical specialties and medical devices into improvement in outcomes for cancer patients.
Special thanks to the New Program Development Group, which was charged with developing the mission and vision statement, defining what capabilities are needed, and identifying program committees. The following Alliance members comprised the group: Peggy Kemeny(GI), Rebecca Snyder (GI), George Chang (GI, CCDR), Kelly Hunt (Breast), Christina Poland (Sarcoma), Anna Weiss (Breast/EO), Jeff Bogart (Radiation Oncology), David Kozono (Radiation Oncology/EO), Rob Grubb (urology), Josh Smith (MSKCC NeuroSurgery), Chan Raut (Sarcoma), Anne Conway (Interventional Radiology), Tony Jaslowski (Alliance Constitution Committee), Maryam Lustberg (Symptom Intervention), Kathryn Ruddy (Symptom Intervention), Patty Spears (Patient Advocate) Sumithra Manadrekar (SDMC), Carissa LePetross (Imaging), Fraser Symmans (Pathology), and Fred Baker (NeuroOncology).

TRANSITION | AMERICAN COLLEGE OF SURGEONS CLINICAL RESEARCH PROGRAM
Special thanks to Kelly K. Hunt, MD, FACS, FSSO, Professor and Chair, Department of Breast Surgical Oncology, Division of Surgery, at the University of Texas MD Anderson Cancer Center. Dr. Hunt has stepped down as Principal Investigator and Director of the Alliance/American College of Surgeons Clinical Research Program (Alliance/ACS CRP) after serving eight years in this capacity. The Alliance/ACS CRP has given way to the development of the new Alliance Program for Procedure-Based Therapy. The American College of Surgeons will retain the three of its four committees, including Cancer Care Standards Development, Education, and Dissemination and Implementation. The Cancer Care Delivery Research Committee has moved under the Alliance Cancer Control Program.
For other articles in this issue of the Alliance E-news Newsletter, see below: